New report says Dare and Currituck counties among most flood-threatened in U.S.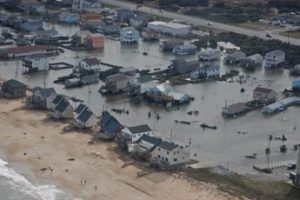 A new report finds that the state of North Carolina—as well as Dare and Currituck counties—rank near the top of U.S. locations when it comes to building new homes in areas potentially threatened by flooding.
Produced by the research group Climate Central and the real estate company Zillow, the report, titled "Ocean at the Door: New Homes and the Rising Sea," calculates the number of homes built in coastal communities between 2010 and 2017 that face an at-least 10 percent flood threat each year by 2050.
The results are also based on the assumption that "the world makes moderate cuts to greenhouse-gas pollution—roughly in line with the Paris agreement on climate, whose targets the international community is not on track to meet." Under this methodology, the report concludes that nearly 18,000 recently built homes in these coastal areas will face that at-least 10 percent flooding threat, on average, by 2050.
In terms of states, North Carolina ranks No. 3, with 1,910 new homes worth a total of $840 million, located in that flood-risk zone. That trails only Florida (2,645 and $3.38 billion) and New Jersey (4,524 and $4.61 billion.)
When it comes to counties, both Dare and Currituck rank in the top 10. Dare County is listed as No. 6, with 502 homes worth a combined $216 million in the flood zone; Currituck follows at No. 8, with 375 potentially threatened homes worth $135 million.
The top two counties on the list are both in New Jersey; Ocean City (2,306 and $1.75 billion) and Cape May (1,274 and $1.94 billion.) In all, four New Jersey counties are among the top 10 in the new homes built in those risk zones.
"Across the United States, coastal communities have recently built tens of thousands of houses in areas at risk of future flooding driven by sea level rise from climate change," the report stated. "That has put homeowners, renters, and investors in danger of steep personal and financial losses in the years ahead. And while municipalities are increasingly developing plans to cope with sea level rise, the pattern of actual recent construction may be a more robust guide to which places are taking the threat most seriously."
Log on to "Ocean at the Door: New Homes and the Rising Sea," to see the entire report.