Newest member of N.C. Ferry System fleet, M/V Salvo, arrives in Manns Harbor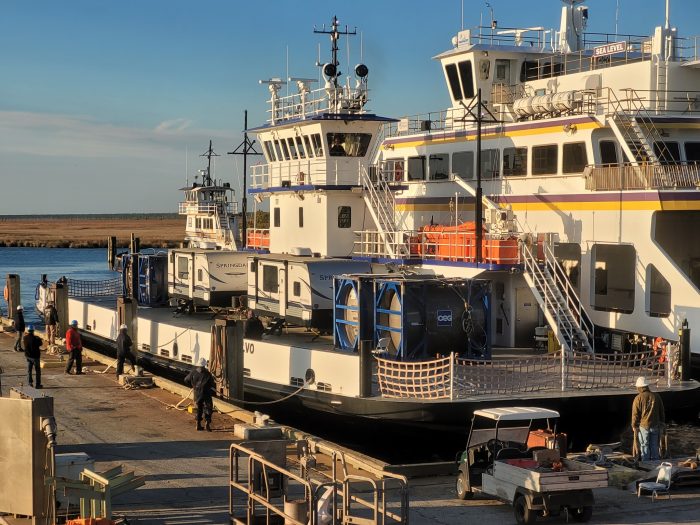 The newest addition to the North Carolina Ferry System fleet arrived Thursday morning at the NCDOT Shipyard in Manns Harbor.
The N.C. Department of Transportation awarded a $22.85 million contract in 2018 to Gulf Island Shipyards of Houma, Louisiana, for construction of two new River Class ferries that can transport 40 vehicles.
The M/V Salvo, and sister vessel the M/V Avon that is still under construction, will replace smaller Hatteras-class ferries M/V Kinnakeet and the M/V Chicamacomico.
After a few weeks of inspection, testing and crew training, the Salvo will begin service on the Cherry Branch-Minnesott Beach route over the Neuse River.
"Construction of the Avon is progressing, and is currently scheduled for delivery during first quarter of 2023," said NCDOT spokesperson Tim Hass.
Hass added that the Chicamacomico will remain in service for a short period of time after the Salvo begins runs, and the Kinnakeet will be replaced by the Avon.
The older ferries carry monikers that honor the original names of the villages located on Hatteras Island, while the newest vessels in the ferry division have the more modern names.
The M/V Rodanthe went into service in 2019, and makes runs on the Hatteras Inlet route.
Officials have said the names have to stick with the hulls on which they are registered with the U.S. Coast Guard.
The old ferries could be sold as surplus eventually, and the new owners could register a new name for the boat. That would allow the Chicamacomico and Kinnakeet names to some day return to the ferry fleet.
As far as the paint jobs on the ferries, which honor colleges and universities across the state, those will transfer.
So the Salvo will be getting the blue and white of UNC Asheville that's currently on the Chicamacomico, and the Avon will get the blue and red of Elizabeth City State University that are on the Kinnakeet.
The N.C. Ferry System is the second largest in the United States, and celebrated its 75th anniversary in 2022. About 800,000 vehicles and 1.8 million passengers cross the rivers and sounds of eastern North Carolina each year by ferry.