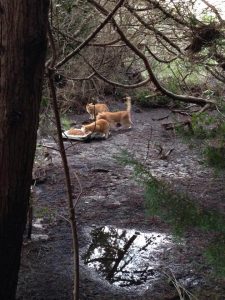 Per a recent update from the non-profit organization Ocracats, which helps the feral cat population on Ocracoke Island, the vast majority of Ocracoke's feral kitties have survived the flooding, including at least 40 of the 57 that member Rita Thiel feeds, and at least 22 of the 38 cats who live behind the Post Office / Tradewinds.
However, Ocracats recently reported that they have lost all of their feeding stations, which are little wooden houses that provide shelter so the cats are able to eat in the rain.
"These shelters can be purchased from Amazon and other websites, or they can easily be built–a great project for a Scout troop!" said the organization in a social media update.
"…At this time, please DO NOT send any more dry cat food – we have run out of dry space in which to store it, and we do not want it to get moldy and unusable. If you want to send food, our older kitties like canned Friskies Pate or Shreds. Donations of Chewy.com gift cards are also welcome."
"Cash donations are also wonderful, as we can use them to buy supplies and hire people to build the shelters as well as to replace carriers, feeding dishes, crates, and other supplies."
To contribute via PayPal, you can click the "Donate" link at their website, http://ocracats.org/
You can also donate via Facebook at https://www.facebook.com/Ocracats/
Ocracats is a non-profit organization that helps the feral cats on Ocracoke Island. The organization feeds, spays, and neuters the cats to try to control the island's feral cat population.