Outer Banks Community Foundation awards $109,800 to ten nonprofits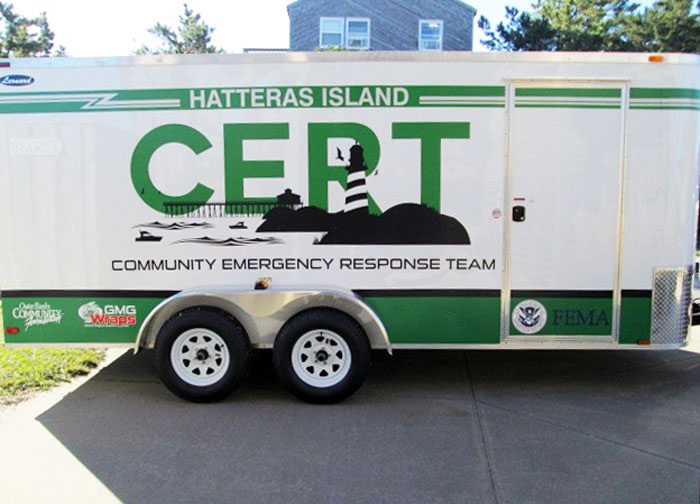 The Community Foundation has awarded $109,800 in Community Enrichment grants to ten nonprofits on the Outer Banks, to support causes including disaster preparedness, summer programming for teens, early childhood care and education, animal welfare, older adults, and the arts.
Organizations that have received these recent grants are listed below
Hatteras Island Community Emergency Response Team (HI CERT) received a grant for $26,900 toward the purchase of six trailers, generators, and communications equipment to operate six satellite internet access points at strategic sites around the island for internet and phone service during a fiber cut or natural disaster. "This project will provide free wifi calling for residents, visitors, law enforcement, and emergency management personnel when lines are down," said Kenny Brite, HI CERT Board Chair. "Whether it's nine hours, or nine days as was the case after Hurricane Irene, this new system will allow important and sometimes life-saving communications to continue on our island."
Outer Banks Family YMCA was awarded a grant for $14,000 to provide summer camp scholarships and YMCA memberships for youth and teens with financial need this summer. "This year, we plan on providing 70 teen memberships and 40 camp scholarships for youth campers," said Jamie Koch, Outer Banks Family YMCA Executive Director. "The Community Foundation grant allows us to do more for youth who otherwise can't afford the enriching summer experiences our day camp and Y provide."
Roanoke Island Historical Association (RIHA) was awarded a $30,000 grant for a new sound array for their annual production of The Lost Colony. "There is more music in our production than ever before, including orchestral underscoring during dialogue," said RIHA Executive Director Chuck Still. "In addition, most of our actors now wear wireless mics. The Community Foundation grant means we'll no longer rent but will own appropriate speakers, saving us a great deal of money and assuring clear, vibrant sound quality for patrons during our next decade of outdoor performances."
Children & Youth Partnership of Dare County (CYP) received a $9,500 grant to present its sixth State of the Child Conference, slated for early 2024. The purpose of the conference is to bring greater awareness to the importance of high-quality early learning opportunities for all children. "The 2024 conference will address areas impacting children and families, including access to high-quality child care, which we know is essential for families, businesses, and the economic development of our community," said Sara Sampson, CYP Executive Director.
NC Lions VIP Fishing Tournament received a grant for $8,500 to repair and renovate their tournament supplies warehouse, where they store fishing poles and gear, merchandise, tables, and chairs. The tournament involves more than 500 participants and volunteers (including 50 local high school students) who come together on the Outer Banks for four days of fishing, sight-seeing, and fellowship each October. "This is a significant annual social event for our participants," said Executive Director Gwen White. "Hundreds of people and businesses in northeastern North Carolina are involved, too," Gwen continued. "Supporters tell us they are the ones who are blessed by this truly remarkable event."
Outer Banks SPCA was awarded $8,000 to add a new Dog Enrichment Center at their facility. "We anticipate being able to offer individual and small group training and activities that enhance behavior, making our dogs more adoptable," said Executive Director Bill Coleman. "The new space also will be perfect for adoption meet and greets, and hosting more volunteers, students, and community groups." Work has already begun; the Dog Enrichment Center will be open by late August.
The OBX Way is a new nonprofit that identifies, documents, and promotes trails to hike, bike, or kayak along the Outer Banks. A grant for $6,000 will allow this group to create free online trail maps for ten routes it has identified from Nags Head to the Virginia border.
Carolina Cross Connection received a grant for $3,000 for materials needed for four Safe Access construction projects in Dare County. The group will bring 50 youth volunteers and their support staff to Dare County for three weeks this summer. They plan to complete 20 different construction projects in that time.
Kitty Hawk Rotary will use a $3,000 grant to help Dare County youth attend overnight camps for wilderness adventure, personal skills development, and scouting advancement at Camp Raven Knob in Mt. Airy and Camp Sea Base in Florida.
Outer Banks Dementia Friendly Coalition was awarded a $900 grant toward its 2023 dementia awareness educational event, The Longest Day OBX. The event, held at Jennette's Pier on the evening of June 21, 2023, will raise awareness about the services and support the group provides to those living with dementia and their caregivers, with a goal to reduce stigma about the disease.
The Outer Banks Community Foundation is a 501(c)3 nonprofit charitable organization that inspires philanthropy and connects people who care with causes that matter. The Community Foundation manages 220 charitable funds for individuals and agencies, including 70 scholarship funds; awards grants to nonprofits and scholarships for higher education, and provides tailored services to help donors pursue their charitable interests. Since its inception in 1982, the Community Foundation has awarded more than $13 million in grants and scholarships.