9:00 a.m. update: N.C. Highway 12 has closed north of Rodanthe due to overwash in the Mirlo Beach area, per an update from the Dare County Sheriff's Office.
Ocean overwash was starting to impact N.C. Highway 12 before Sunday morning's 9:00 a.m. high tide at several locations, including northern Buxton, northern Rodanthe (Mirlo Beach area), Pea Island, and Avon.
NCDOT crews were stationed at hot spots and clearing sand and water from the highway as of 8:45 a.m. However, flooding is expected to get worse throughout the morning, and travelers should avoid using the roadway if possible.
Moderate to major ocean overwash is expected to continue to occur until Monday at the earliest, and continued impacts to N.C. Highway 12 are probable, with the highway becoming impassable at times.
15 to 20 ft. waves in the surf zone will lead to dangerous beach conditions and erosion, and soundside flooding is also probable, especially for southern Hatteras Island and Ocracoke Island. Moderate to major inundation with water levels 2-4 feet above ground level is forecast along the soundside through Monday morning, with flooding highly likely for low-lying areas immediately adjacent to the Pamlico Sound.
As of 9:00 a.m. on Sunday, minor to moderate soundside flooding was reported on Ocracoke Island as well as Hatteras Village.
Peak wind gusts of 45-60 mph are forecast on Sunday through Sunday night, and a total of 2-4" inches of rainfall is also expected with the storm. Localized flash flooding is possible in low-lying areas.
For more information on the local forecast, visit www.weather.gov/mhx for general weather information, or the National Weather Service office in Newport / Morehead City's Facebook page at https://www.facebook.com/NWSMoreheadCity/.
Northern Rodanthe at 8:30 a.m. Video by Rick Shaftan.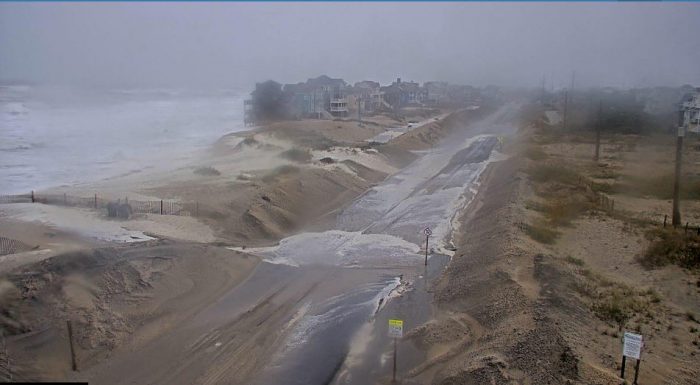 Northern Rodanthe at 8:30 a.m. Video by Rick Shaftan.