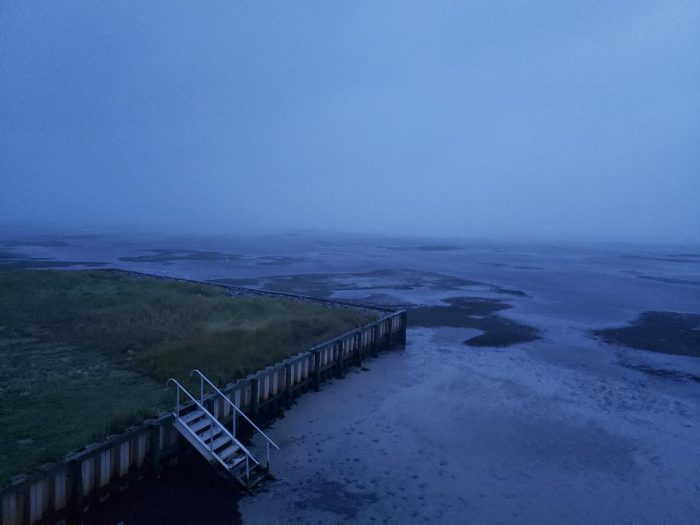 Residents throughout Hatteras Island reported that water levels in the Pamlico Sound and adjacent canals were rapidly lowering before sunrise on Friday morning. Reports of low soundside water levels were received from Hatteras, Frisco, Buxton, Avon and Salvo.
4-7 feet of storm surge continues to be forecast for Hatteras and Ocracoke islands and water levels will rise rapidly on the soundside as the center of the storm passes on Friday. The worst conditions for the Outer Banks for soundside flooding are forecast during the day on Friday. Storm surge estimates are fluid, and the public can keep track of any changes for their specific village or neighborhood via the interactive National Hurricane Center's Storm Surge Inundation Map.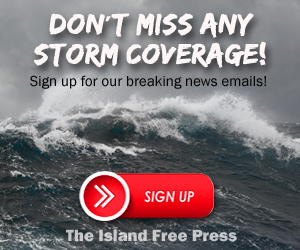 Water levels can also be tracked in real-time at https://tidesandcurrents.noaa.gov/map/index.html for Hatteras Inlet and Oregon Inlet, and at https://fiman.nc.gov/ for gauges in Avon, Rodanthe and Buxton.
As of 5 a.m. on Friday, the center of the eye of Hurricane Dorian was located approximately 25 miles east of Cape Lookout, and about 55 miles southwest of Cape Hatteras. Dorian is approaching the Outer Banks as a strong Category 1 hurricane.
Dorian is moving northeast 14 mph, with maximum sustained winds of 90 mph and this general motion with an increase in forward speed is expected through Saturday.  On the forecast track, the center of Dorian will move near or over Hatteras and Ocracoke islands during the next several hours.
As of 6:30 a.m., most Hatteras Island residents reported having power, however, winds had started to pick up throughout the island. A wind gust of 75 mph was reported in Hatteras village at 6:33 a.m.
Hurricane-force winds extend outward up to 45 miles (75 km) from the center and tropical-storm-force winds extend outward up to 220 miles (350 km).  A NOAA weather station at Cape Lookout, North Carolina, located inside the western eyewall of Dorian, has reported sustained hurricane-force winds of 74 mph (119 km/h) and a gust to 94 mph (152 km/h).
Up to 15 inches of total and localized rain during the storm is still forecast for the Outer Banks. Flash flood risk is expected to be at its highest through Friday morning, with rain rates of more than 2 inches per hour at times.
A curfew remains in effect until Hatteras Island on Friday until at least noon.