Erin will continue to cause rough surf; Public advised to keep an eye on Dorian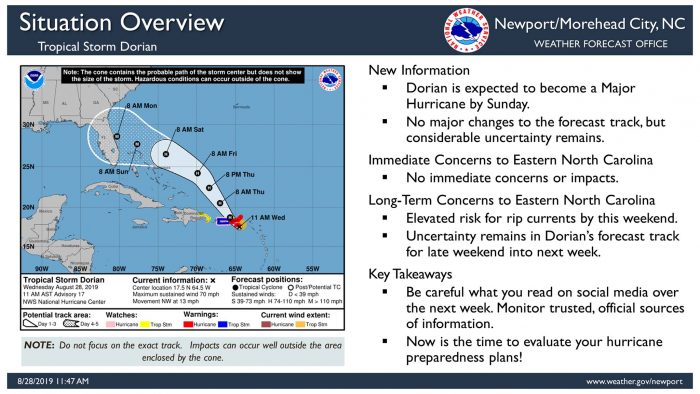 While there are no immediate concerns for Eastern North Carolina when it comes to immediate impacts from Tropical Depression Erin or Hurricane Dorian, residents and visitors along the Outer Banks are advised to watch for rough surf and rip currents, and to keep an eye on Dorian as it approaches the U.S. coastline.
As of 11 a.m. on Wednesday, Erin was located approximately 190 miles southeast of Cape Hatteras and was moving north-northwest near 13 mph. The offshore cyclone is expected to turn northward later today, and then north-northeastward early Thursday morning with an increase in forward speed.
A moderate to high risk of rip currents and rough surf remains in effect for the Outer Banks, and particularly north of Cape Hatteras, as Erin departs the offshore waters.
Meanwhile, as of midday Wednesday, Dorian was located 25 miles southeast of St. Croix with maximum sustained winds of 75 mph. Dorian was upgraded from a tropical storm to a Category 1 hurricane on Wednesday afternoon.
Dorian is moving toward the northwest near 13 mph, and this motion is expected to continue for the next day or two. On this track, Dorian should move near the U.S. and British Virgin Islands and then continue over the open Atlantic well east of the southeastern Bahamas. Dorian is forecast to continue strengthening during the next few days as it moves over the Atlantic waters.
Though there are no immediate concerns or impacts for the Outer Banks from Dorian, an elevated risk for rip currents by this weekend could impact Labor Day plans along the coastline.
In addition, considerable uncertainty remains in Dorian's forecast track for late this weekend into next week, so all interests in the Carolinas should continue to monitor this storm using trusted, official sources of information. The public can stay updated with the latest information on Dorian and find hurricane preparedness tips at https://www.nhc.noaa.gov/.
For more information on the local forecast, visit www.weather.gov/mhx for weather information, or the National Weather Service office in Newport / Morehead City's Facebook page at https://www.facebook.com/NWSMoreheadCity/.