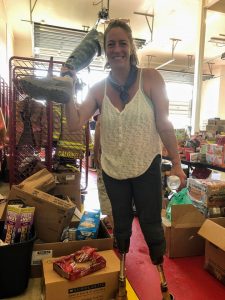 UPDATE: According to a Thursday evening update from The Ocracoke Observer, the missing prosthetic was found by an islander taking a walk on the beach.
The Ocracoke Observer is asking for help for a local island resident who lost a prosthetic leg in the ocean on Wednesday evening.
One of Islander Kelley Shinn's prosthetic legs was lost during a beach trip, and the public is being asked to please keep an eye out in case it washed ashore on the beaches of the northern Outer Banks.
"Yes. We know it sounds funny, but this is not a joke. (She has two prosthetic legs)," stated the Ocracoke Observer in a social media post. "She said the ocean current was going southwest toward South Point and asks if anyone is on the beach on Thursday morning and beyond, if you find a prosthetic leg, please bring it to the Ocracoke Volunteer Fire Department."
At least one social media commenter believed that the limb was recently located on Pea Island, although this has not yet been confirmed.
The Island Free Press will post updates as they become available, and in the meantime, anyone with information can reach out to the Ocracoke Observer via their Facebook page at https://www.facebook.com/ocracokeobserver/