Rains start to diminish, but ocean overwash and coastal flooding still possible as Idalia moves away from the coast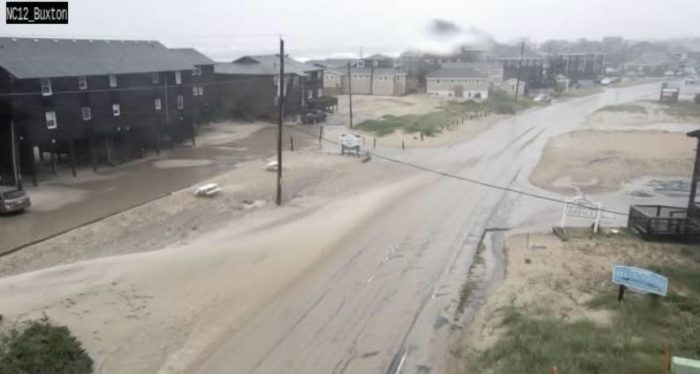 The heavy rains from Tropical Storm Idalia that have impacted the Outer Banks since Wednesday night have started to diminish as of 1:00 p.m. on Thursday, however, N.C. Highway 12 remains inundated with water and sand in multiple locations, and travel should be avoided unless necessary.
"Lots of standing water left from the rain on most roads, with significant coverage of roads on Hatteras," said Dare County Emergency Management Director Drew Pearson in a Thursday afternoon update.
"It will take some time for the water to drain off, so please exercise caution if travel is needed. This evening's high tide could still bring ocean overwash to vulnerable locations, mainly on Hatteras. NCDOT crews, as always, are on top of things, so please give them a break and slow down where they are working."
Additional ocean overwash is possible with tonight's high tide at approximately 8:30 p.m. 
Oceanside/soundside flooding is expected to peak this afternoon through Friday, with 2-3 feet of inundation along the oceanside possible, and 1-3 feet of inundation forecast along the soundside, particularly from Buxton to Ocracoke. Soundside flooding was already reported in Ocracoke village on Thursday morning, but water levels were slightly receding as of 1:00 p.m.
A high risk of rip currents is expected to remain through the weekend, so beachgoers should exercise caution well after the storm is over, and stay out of the ocean waters.
Increasing winds should peak at 35-45 mph with gusts of up to 55 mph on Thursday, August 31, and winds will diminish slowly on Friday, September 1.
The strongest winds are anticipated to continue through Thursday evening.
All Hatteras-Ocracoke ferry operations remain suspended due to Idalia. Passengers can receive real-time text or email alerts from their preferred routes by signing up for the Ferry Information Notification System (FINS) at www.ncdot.gov/fins. System-wide route status updates will also be posted on the Ferry Division's Twitter and Facebook​ pages.