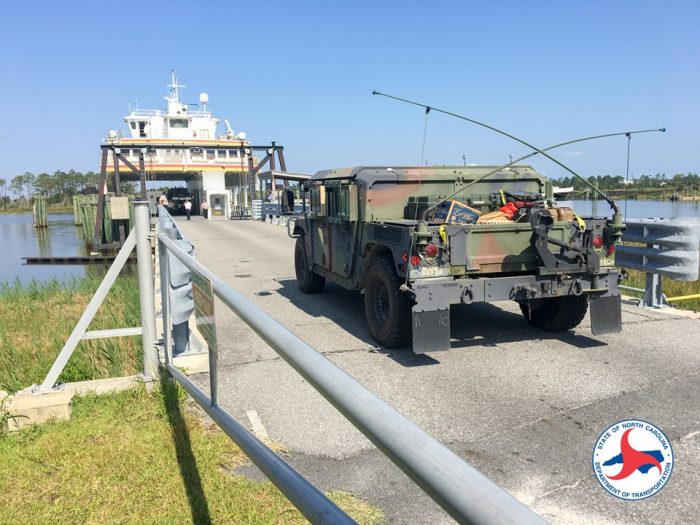 Recovery efforts and evacuations continued on Ocracoke Island Saturday afternoon and evening, while Hatteras Island saw progress which included major power restorations, and the immediate opening of the island for residents and essential business personnel on Saturday night.
Updates for Hatteras and Ocracoke islands as of 10:00 p.m. on Saturday include the following:
Ocracoke Island:
Ocracoke residents that still want to evacuate the island can do so on Sunday and Monday. Reentry will not be permitted until the evacuation order is lifted. Ferries will leave to Swan Quarter at 10 a.m. and 12p.m., 2 p.m., 4 p.m., 6 p.m. and 8 p.m. Ferries to Cedar Island depart at 11 a.m. and 5 p.m.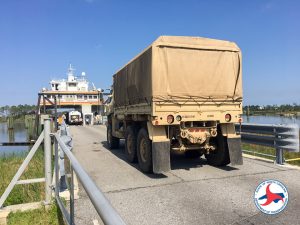 Due to extensive damage, NCDOT's ferry service to Ocracoke Island will only be available to emergency responders and other authorized personnel until further notice. Hyde County Emergency Services officials said Saturday a mandatory evacuation order remains in effect for the island, and are restricting entry to the island. Authorized personnel include crews bringing supplies and equipment to the island, emergency services personnel and law enforcement. Authorized personnel does not include Ocracoke residents or visitors wishing to visit the island.
Hot meals are being served by the Salvation Army at the Ocracoke Community Center. The meal Schedule for Sunday, September 8, at is as follows:
Breakfast 8:00 a.m., Lunch 12:00 p.m., Dinner 5:00 p.m.
999 Irvin Garrish Hwy.
Ocracoke, NC 27960
The Ocracoke water system failure is due to a faulty generator. A repair technician was onboard the Saturday morning ferry that left Swan Quarter. As water service is restored, residents are advised to check under their houses for any broken water lines and shut off the valve if a leak is discovered. The Ocracoke Sanitary District has also put out a boil water adivorsy for when service is restored, which can be found at http://www.hydecountync.gov/newsdetail_T73_R2219.php.
N.C. Highway 12 on Ocracoke Island had severe damage in at least two 500 ft. sections, and NCDOT announced that repairs for the damage will take a long time on Friday evening.
For those wishing to assist in Ocracoke recovery efforts, please contact the following people to coordinate your efforts:
Donation Management: 833-543-3248
Volunteer Management: 252-305-2685
Hyde County Public Information will compile a list of needs Saturday night and get that information out to everyone wishing to help.
The Cape Hatteras National Seashore reported that all Ocracoke ponies were fine and accounted for.
Hatteras Island
Cape Hatteras Electric Cooperative (CHEC) reported good progress on Saturday and stated that transmission power has been restored to all circuits on Hatteras Island. Crews still have a large number of scattered outages across the island that they will continue to work on. If your power did not come back on today, please make sure you report it to (866) 511-9862. CHEC crews will be out in full force once again early tomorrow to continue the restoration efforts.
Priority Two reentry to Hatteras Island began on Saturday evening. Priority Two includes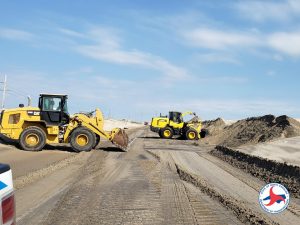 permanent residents and essential personnel for critical businesses. Permanent residents must present a valid NC driver's license or government-issued ID with a Hatteras Island address. To expedite movement through traffic control points, residents can also display a reentry permit. Essential personnel of critical businesses must present a Priority Two reentry permit with a matching government-issued ID.  The County's online reentry permitting system and detailed information about the staged reentry process is available at www.darenc.com/reentry.
Cape Hatteras Secondary School suffered significant damage as a large part of the roof flew off during the storm. Per a message from the Dare County Schools Superintendent, school officials canvased the building today, and about a third of the school has been damaged. "We are working on a comprehensive recovery effort to be in a position to open CHSS as soon as possible," said Superintendent John Farrelly in an online statement. All Dare County Schools will be closed on Monday, September 9 for all students and school staff.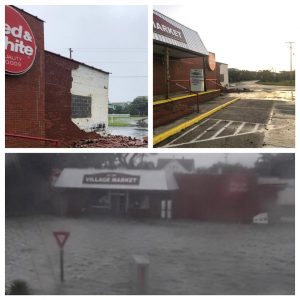 Several businesses were reported to be open on Saturday, which includes Conner's Supermarket in Buxton and Ace Hardware in Avon. The Village Red & White in Hatteras had some damage but will be open Sunday from 9 a.m. until 12 p.m. as repairs continue. Food Lion in Avon is also scheduled to be open on Sunday.
Sand and water remains on many Hatteras Island roadways, including N.C. Highway 12, although NCDOT worked all Saturday to remove sand and water from the road. Returning residents are advised to drive slowly and proceed with caution.
Dare County wants to help those in need. Please contact the Department of Health and Human Services at 252.475.4196 if you or someone you know needs assistance. In areas of the county most impacted by the storm, relief workers will be in the field knocking on doors, but please reach out and let county officials know if you need assistance.
The Salvation Army will provide three meals a day beginning Sunday at two locations on Hatteras Island: the Old PNC Bank in Buxton and the Hatteras Village Fire Department. Mealtimes at both locations are 8 a.m. for breakfast, 12 p.m. for lunch, and 6 p.m. for dinner.
Cape Hatteras National Seashore remains closed to all public use. Additional resources from the National Park Service will begin to arrive today to aid in damage assessments and mitigating immediate risks to life safety.
Folks who want to donate funds towards recovery efforts can contact the Outer Banks Community Foundation (OBCF) at www.obcf.org/disaster or the Cape Hatteras United Methodist Men, which is a local organization that has been assisting Hatteras Island for 40 years.
Checks can be mailed to:
Cape Hatteras United Methodist Men
PO Box 1591, Buxton, N.C. 27920
Checks should be marked "Hurricane Dorian Relief" and receipts will be sent. 100% of donations are used to address the needs of islanders.