Saturday saw some initial progress for the recovery efforts for Hatteras and Ocracoke islands, as resources continued to arrive, and power and NCDOT crews continued working in earnest to restore service, and clear roadways.
Updates for Hatteras and Ocracoke islands as of 2:30 p.m. on Saturday include the following:
Ocracoke Island: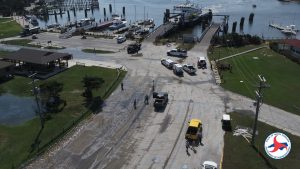 On Saturday morning, Hyde County Public Information stated that the MV Carteret is underway, carrying essential personnel and equipment from Swan Quarter to Ocracoke. A channel and ramp assessment will be conducted today to determine when normal ferry service can resume.
The Ocracoke water system failure is due to a faulty generator. A repair technician was onboard the morning ferry that left Swan Quarter, and officials are hopeful that it can be repaired today. Boil advisory will be in effect once restored. The full notice regarding the water system failure can be found at http://ow.ly/1KDB50w0Mcn.
Hot meals will also be served at multiple locations throughout Hyde County starting today. For locations and times, see http://ow.ly/NLL150w0MXl.
N.C. Highway 12 on Ocracoke Island had severe damage in at least two 500 ft. sections, and NCDOT announced that repairs for the damage will take a long time.
For those wishing to assist in Ocracoke recovery efforts, please contact the following people to coordinate your efforts:
Donation Management: 833-543-3248
Volunteer Management: 252-305-2685
Hyde County Public Information will compile a list of needs this evening and get that information out to everyone wishing to help.
Hatteras Island
Power was returned to the tri-villages area of Hatteras Island midday on Friday, however, power for Avon, Frisco and Hatteras continues to be out. Cape Hatteras Electric Cooperative reported on Saturday morning that an additional 27-man crew from Lee Electrical Construction, Inc. has arrived, and crews will be working in all villages today. Power was restored to some areas of Buxton on Friday night.
Some sand and standing water remained on N.C. Highway 12 as of Saturday morning, although some sections of the roadway – particularly those north of Avon – were reported to be passable.
Access to Hatteras Island remains closed until further notice. This includes all areas south of Oregon Inlet, including the villages of Rodanthe, Waves, Salvo, Avon, Buxton, Frisco, and Hatteras Village. NCDOT continues efforts to clear the roads of sand and water, and make repairs as necessary. A checkpoint has been established to restrict entry to Hatteras Island.
Several businesses were reported to be open on Saturday, which includes Conner's Supermarket in Buxton.
The Salvation Army is also setting up a mobile food kitchen at the old PNC bank in Buxton. The food kitchen is expected to be open at 6 p.m. on Saturday.
Dare County stated in a press release that the county is available to help those in need. Please contact the Department of Health and Human Services at 252.475.4196 if you or someone you know needs assistance. In areas of the county most impacted by the storm, relief workers will be in the field knocking on doors, but please reach out and let county officials know if you need assistance.
Cape Hatteras National Seashore remains closed to all public use. Additional resources from the National Park Service will begin to arrive today to aid in damage assessments and mitigating immediate risks to life safety.
Folks who want to donate funds towards recovery efforts can contact the Outer Banks Community Foundation (OBCF) at www.obcf.org/disaster or the Cape Hatteras United Methodist Men, which is a local organization that has been assisting Hatteras Island for 40 years.
Checks can be mailed to:
Cape Hatteras United Methodist Men
PO Box 1591, Buxton, N.C. 27920
Checks should be marked "Hurricane Dorian Relief" and receipts will be sent. 100% of donations are used to address the needs of islanders.