Strong OBX presence at Visit N.C. Tourism Conference; expert says N.C. visitor economy can withstand recession
The annual Visit NC Tourism Conference was held in Asheville earlier this month, and as always there was a strong Greater Outer Banks presence.
And the vibe around the Omni Grove Park Inn is that North Carolina's visitor economy is set-up for another strong year, despite concerns about the overall economic climate in the months ahead.
The sold-out conference brought together more than 500 members of the tourism industry to discuss the latest trends and issues facing the industry and hear insights from other tourism industry professionals.
Among those in attendance and/or exhibiting at the event are Outer Banks Visitors Bureau Executive Director Lee Nettles, Dare County Tourism Board Chairman Tim Cafferty, Currituck Travel and Tourism Director Tameron Kugler, along with management and staff from a number of the region's tourism-related businesses.
Also among the exhibitors is the Lighthouse Fund for Sustainable Tourism, a partnership established in 2021 between N.C. State University's Department of Parks, Recreation and Tourism Management and Twiddy and Company.
Assistant Professor Dr. Whitney Knollenberg has conducted research and outreach activities across the Greater Outer Banks to promote sustainable tourism development, and has been sharing her study results to help support similar efforts around the state.
There were a number of speakers throughout the three-day event, including the keynote address by PBS travel show host Samantha Brown.
Concerns about the potential for at least a mild recession as early as the second quarter of 2023 have every business wondering how it's going to impact their futures. But one expert appearing at the conference said he's not as concerned for the state's visitor economy.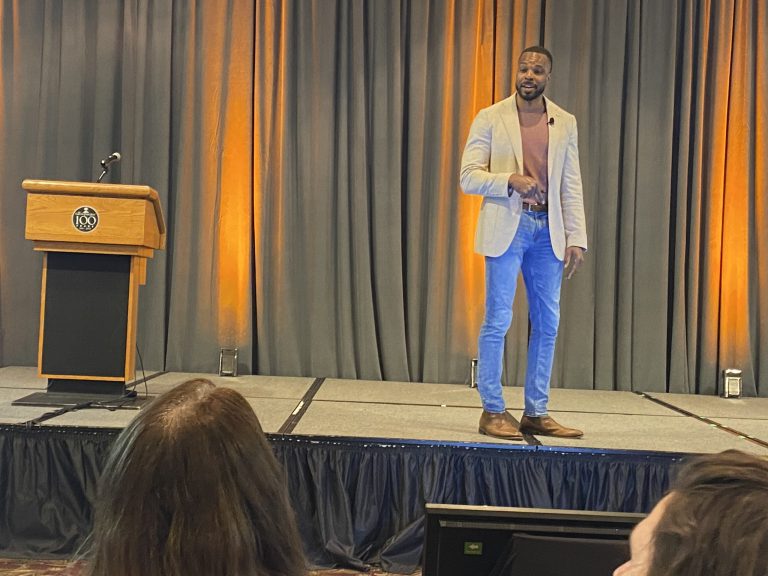 "The travel outlook is strong and North Carolina is in a great position," said Zeek Coleman, Vice President with Tourism Economics, a division of independent economic advisory firm Oxford Economics.
Coleman said over the last three recessions, excluding the downturn hinted in 2022, hotel demand fell four-times the gross domestic product, especially for high-end properties.
But at the same time consumer spending has remained strong, bouncing back to around two-thirds of total consumption when its normally closer to 70 percent. Coleman said that normalization implies there will be further growth for travel.
Coleman also said a recent study shows 34 percent of Americans plan to travel while they work remotely over the next 12 to 24 months.
He noted higher prices are starting to weigh into travel decisions, according to 44 percent of respondents.
But the travel price index is showing signs of more "affordable" days ahead, with the costs of motor fuel, transportation and airfares continuing to decline.
Coleman also said there are four signs the travel industry across the country will prevail: There are no signs of weakness, yet; U.S. households are in a position of strength; pent-up demand and prioritization of travel is real; and business are still restoring necessary travel.
He said North Carolina has a positive employment outlook in the leisure and hospitality industry, as one of only around dozen states that have increased those jobs compared to 2019 and outpaced other industries by 18 percent.
But the industry also has a historically high job vacancy rate at 8.9 percent through last December, with 46,203 openings as of October 2022.
Coleman concluded that recessions fears and workforce challenges may hamper demand and ADR growth, but North Carolina is well positioned to overcome those challenges.
During the closing session, Wit Tuttell, Executive Director of Visit NC, noted that North Carolina is the sixth most visited state in the country, and third on the East Coast. His goal is for North Carolina to be the most visited state in the country.
Next year's event will be held in Greenville Monday through Wednesday, March 17-19, 2024.. More information on the program and the conference room block will become available later in 2023.