Two Ministers, Two Islands, One Family: Ocracoke recovery efforts hit close to home for a Rodanthe Pastor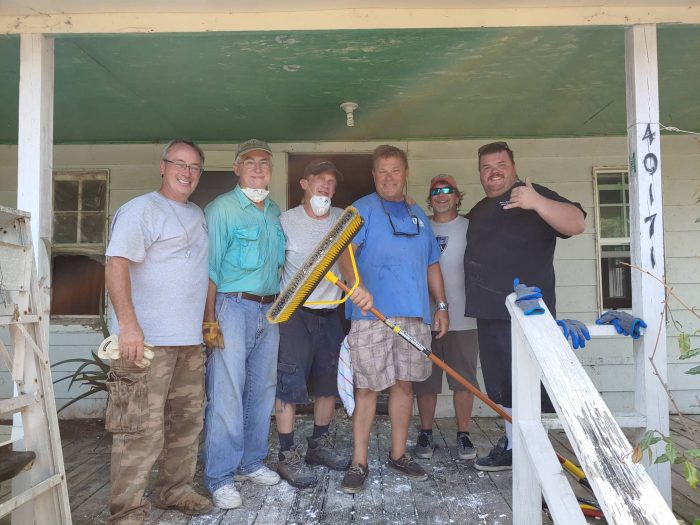 On the morning that Dorian made landfall on Cape Hatteras, Pastor Tim Fitch was at his Tri-villages home when his mother, Rev. Susie Fitch-Slater of the Ocracoke Methodist Church, initiated one of the most terrifying phone calls of his life.
"It was the kind of phone call that you never want to hear," he says. "She told me how proud she was of me, and how much she loved me… The water had already risen more than four feet in her Ocracoke home, and at that moment, she didn't think the flooding was going to stop."
"I really thought that it was the last time I was going to talk to her," he adds. "In that moment, I realized how bad it was down there."
The Ocracoke Methodist Church was a new assignment for Tim's mother, which she started in June of 2019. She was just starting to know her congregation when Dorian arrived on Friday, September 6, and changed everything in a matter of hours.
Separated by an inlet with no way to reach his mother, Pastor Fitch waited for an excruciating 90 minutes after that initial Friday morning phone call until the phone rang again. This time, his mom reported that somehow she had found higher ground, and was safe.
"After that second call, my [mindset] changed, and I instantly knew that there was about to be a lot of work to do," he says.
Tim Fitch is the pastor of the Fair Haven United Methodist Church (UMC) in Rodanthe, and the Clarks Bethel United Methodist Church (UMC) in Salvo, and he has a deep heritage when it comes to both ministry, and being a true Outer Banks local.
"My mom graduated from the Duke University Divinity School and has and been a Methodist pastor since her late 20s. My father was a pastor as well, and they shared a congregation together, until he passed away when I was four," says Pastor Fitch. "Originally, my grandad is a Williams from Avon, and my grandmother is a Gallop from Wanchese… so that's where I get my blue eyes, and my attitude."
Pastor Fitch followed his parents' lead in ministry, and has been launching a number of community-oriented projects at his Rodanthe home base, which includes a recent community garden and a new playground.
But Dorian presented an entirely new and unprecedented set of challenges.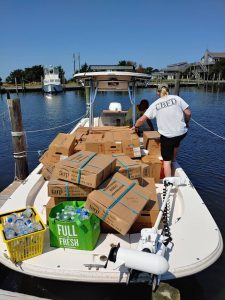 The Tri-villages area was relatively spared by Dorian, but Ocracoke Island and southern Hatteras Island were devastated by the storm.
So moments after talking with his mom in Ocracoke, Pastor Fitch reached out to his congregants, members of the Chicamacomico Banks Volunteer Fire Station, and Capt. Butch Barber of Chocolate Lab Charters in Rodanthe.
They filled Capt. Barber's charter boat with essential supplies to the brim, and within 24 hours, the makeshift crew was heading to Ocracoke to help out in any way they could.
"When we got there, it was like a bomb had gone off on the island," says Pastor Fitch. "But we also saw other Hatteras Island [residents] arriving, and unloading supplies from other boats… that was a great sight."
The volunteer crew from the Tri-villages started with gutting his mom's house, and then they quickly moved on to her neighbors' homes in Ocracoke village. This initial work launched a new routine of taking trash to the streets, and salvaging whatever mementos could be saved from a lifetime of collection into storage totes.
But despite the rapid-fire response of Pastor Fitch and his volunteer crew, and the inherent determination to keep going to address as many homes as possible, rooting through his mother's Ocracoke home in the wake of record-breaking storm surge lingered.
"She lost a ton of items," he says. "My mom's house has always been one of those places where I would have 10 friends spending the night. Her house was always open to the community, and you'd never know who might show up to sleep on the sofa. Despite that, though, everything was always in order.
"But walking in and seeing the mud and the water everywhere… it was devastating," he says. "We've scooped sewage and helped people try to recover their belongings [in recent days], but helping my mom go through her belongings was one of the most emotional experiences I've ever had."
Pastor Fitch's mom stored away what she could salvage in four or five plastic totes after the Saturday morning overhaul.
Meanwhile, Pastor Fitch and his team of Tri-village volunteers kept moving to address the mass damage in Ocracoke however they could.
They also returned to Ocracoke several days later to start addressing the Ocracoke Methodist Church, and they gutted out the inside so that it could be used for other services as the days dragged by. "In this situation, everyone needs to work on their homes, so the church wouldn't have [been addressed] in a while," he says.  "Now, it's a staging point for the Methodist Disaster Recovery Team, who are there today."
In the days that followed, Pastor Fitch and his Rodanthe recruits visited Ocracoke four times, and his ever-changing roster of volunteers included a team of college ministry students from East Carolina University (ECU), and even a group of generous sixth-grade students from the Cape Hatteras Secondary School, which was closed for more than a week, due to Dorian damage.
"[Sixth-grader] Owen O'Neill was one of the most amazing volunteers that we had," says Pastor Fitch. "Owen spent every day of his time off from school helping others and working with me – Way harder than any adult I've ever met. He's definitely learned his work ethic from his dad, Justin O'Neal, and his mom, Stephanie."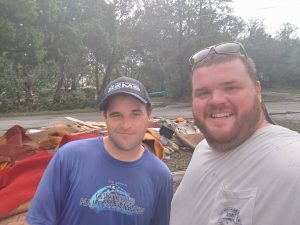 A long list of locals came out to help out with the recovery efforts orchestrated by Pastor Fitch and the Tri-villages area of Hatteras Island, such as Becca Wells, Melinda and Matt Cartwright, Jeff Guttmen, Dave Weigle and David Smith.
And as the extensive work required throughout the islands came into focus, the team also directed their efforts on areas that were hit closer to home.
When the Tri-village teams weren't concentrated on Ocracoke, (which includes a tally of four trips to Ocracoke Island and counting), they were addressing homes in Avon – Pastor Fitch's hometown – and were helping storm-weary residents in the first steps of recovery by removing flooded floors and walls.
"When you see all that stuff on the side of the road, that's not trash – that's things that people owned, and loved, that they had to throw away," says Fitch. "We went to one house in Avon, and [the owner] could likely have afforded 100 work teams, but he was just so flustered on how to respond to any of it. He was just so appreciative of the help – he just didn't know where to start."
It has certainly been nonstop work for the Tri-villages crew, but Pastor Fitch's mom – who is still in Ocracoke – hasn't slowed down, either.
She had to abandon her parsonage home, as the electric meter was pulled, and the flooding damage was severe. But her neighbors and friends, the Adams, have generously welcomed her to stay with them in Ocracoke Village as she continues the constant and island-wide efforts to recover.
"She's going to stay there and not leave her community," says Pastor Fitch. "She and my stepfather – who is on dialysis – came up twice for an overnight visit, but she is staying put because she wants to be there for the community in any way she can."
While Pastor Fitch and his northern Hatteras Island friends are addressing Hatteras Island and Ocracoke homes, his mom is staying busy making door-to-door visits, and helping to sign up local Ocracoke residents who need help.
"If I'm putting in 12 hours a day, my mom is putting in 17 hours a day," he says. "My mom doesn't quit. Everyone wonders where I get [my motivation] from, and it's from her."
There's plenty more work to do, and the Tri-village volunteers don't see an immediate end to their long days in sight. "The whole group that has been working with me has been doing nonstop work," says Pastor Fitch. "And there's still a lot of work to be done."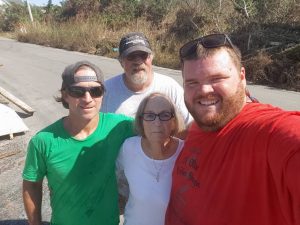 And when it comes to the question of why Pastor Fitch and an increasingly long list of Tri-village volunteers are making frequent trips to the southern ends of the Outer Banks, it all boils down to the concept of helping your neighbors, and remaining Island Strong.
"As a pastor, you just give it your all… If you're not giving it your all, then there's no point in being a pastor," says Pastor Fitch. "The greatest commandment – loving others before yourself – is what you have to live by."
"In the Tri-villages, we're always in a strange situation, because we're not really connected to anything south or north of us… But we love everyone south, and we want to be involved, and we're not going to let our brothers and sisters suffer and think, 'well darn, that stinks.'"
"The attitude in the Tri-villages right now is that our friends in the southern parts of the islands have always come to help us when we're flooded and get the brunt of the storm, and we want to return the favor," he adds. "We're one island. We may be 40 miles apart, but we're Island Strong… In the grand scheme of all of this, that's what community is all about."