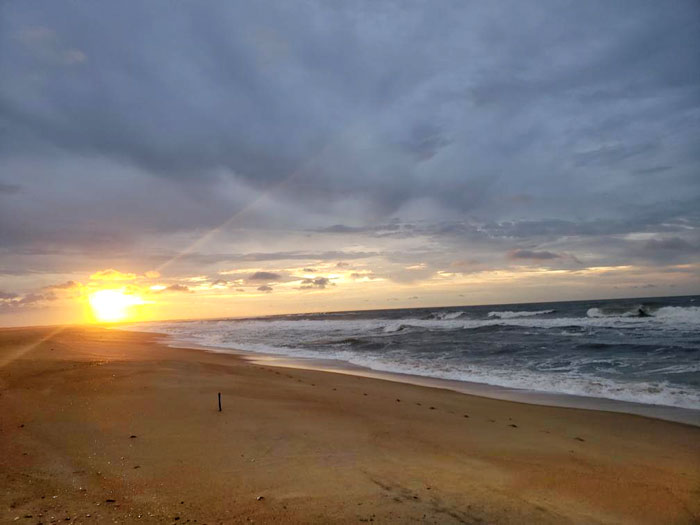 Two weeks after volunteers worked to remove more than a mile of debris along the beach, all evidence of a shipwreck that occurred off of Frisco on February 4 is gone from the shoreline.
The National Park Service (NPS), in conjunction with the U.S. Coast Guard and contractor Atlantic Coast Marine, removed remaining pieces of the vessel still lodged in the ocean wash shortly after the massive clean-up, with most all work completed by February 7.
NPS staff also patrolled the surrounding beaches days after the shipwreck occurred, and removed quite a bit of additional debris that had floated far away from the original wreck site.
The clean-up was required after a 55' foot shrimp trawler named the Big John ran aground close to shore on February 4, and subsequently broke apart in the rough weather and surf conditions. All three crew members of the vessel made it to shore safely, but following the wreck, a mile-long stretch of beach between ORV Ramps 48 and 49 was cluttered with dangerous debris, including nails, wood, and Styrofoam pieces of all sizes.
Because of the size and scope of the wreckage washing ashore, the NPS asked the public to help with a volunteer community clean-up the following day. Members of the Hatteras Island Rescue Squad, U.S. Coast Guard Station Hatteras Inlet, and the National Park Service responded to the call, as did dozens of local residents and visitors.
The clean-up was successful, and the mile-long stretch of beach, (which had to be temporarily closed due to the hazardous debris), was reopened later that day.
"We were able to take care of that large [debris field] with a lot of help from volunteers," said Michael Barber, CHNS Public Affairs Specialist.
Though Barber advises that beachgoers continue to use caution in case of any lingering litter from the shipwreck, with the wreckage fully removed and the beach cleaned, there is no visible evidence that the shipwreck ever occurred in Frisco, thanks to both NPS and community efforts.
"Even the following day, outside the volunteer clean-up event that we held, we had concerned visitors and residents come out to clean up some of the remaining debris," said Barber, "and we are grateful for their assistance during that time."