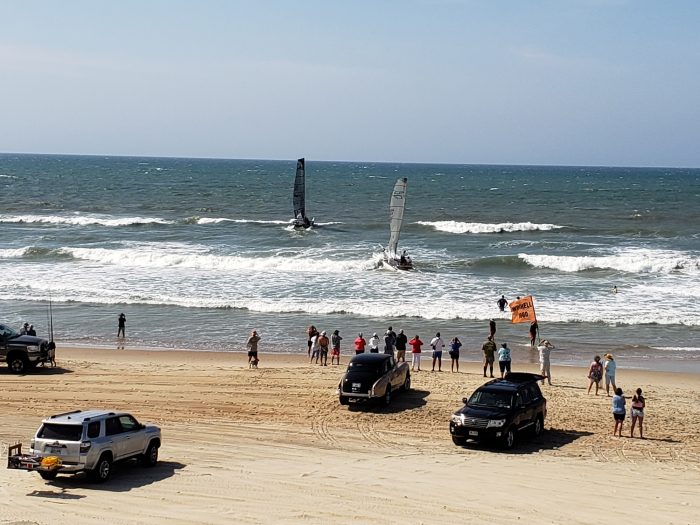 At 9:55 a.m. on Friday morning, a crowd of onlookers watched as the three teams competing in the Worrell 1000 Reunion Race successfully navigated the small waves that bordered ORV Ramp 49 in Frisco, and started the day's trek towards Kill Devil Hills.
Competitors and race organizers both said that Cape Point was the primary navigation hazard of the day, (if not the entire 1,000-mile event), however all three catamaran sailboat teams made it around the Point within minutes of each other, cruising past the shoreline roughly 200-300 yards offshore, according to spectators. By 10:30 a.m., the race's current leader – Team Australia – was already heading out of Buxton and was steadily sailing north.
Before the morning launch, race organizers and crew members thanked the local crowd on the Frisco beach for their encouragement, noting that their Hatteras Island stop stood out among the 11 checkpoints that spanned from Florida to Virginia Beach.
"We have had tremendous support at this checkpoint – more than anywhere else," said Race Committee PRO John Williams.
"Thank you to everyone who came out to watch us go this morning – I'm sure we will put on a bit of a spectacle," said Team Australia's Rod Waterhouse, and the lone veteran of the Worrell 1000.
In addition to the natural challenge of Cape Point, the competitors were also faced with some of the strongest winds of their multiple-day adventure thus far, and Williams noted that there was a Small Craft Advisory forecast for later in the day. Nevertheless, it took the teams mere minutes to launch from the Frisco beach and to head out to the open water close to shore, as crowds watched on and cheered.
Though their stay on Hatteras Island was brief, hosts and Cape Hatteras Motel owners Janet Morrow and Dave Dawson worked to ensure that the visit was memorable, and even took the entire crew to dinner at Pangea Tavern in Avon.
"They are wonderful people, and we're glad they had some time to rest for a bit – those folks have got to be exhausted," said Janet Morrow Dawson.
"They said this was the warmest welcome they've had so far, and as an island community, we should all feel good about that," she added. "It sounds like they'll be back – and not just for the [Worrell] race."
The race teams were also presented with raffled gifts from Cape Attitude and Buxton Village Books. Buxton Village Books appropriately provided Sea Bags, which are initially born as sails, and are transformed into nautically inspired totes. "This will make a great tool bag," said Waterhouse, admiring the gift.
From their Frisco departure, the teams will stop in Kill Devil Hills on Friday night before conducting a beach clean-up, and then making their way through the final leg to the Virginia Beach finish line.
Originally launched in 1976, the Worrell 1000 Race is back for 2019 after a 17-year hiatus, and the 1,000-mile catamaran sailing race is legendary for its challenging trek up the coastline.
2019's three competing teams – Team Australia, Team Cat in the Hat, and team TCDYC or "Team Texas" – have already garnered plenty of attention at every stop for their brave decision to give the unpredictable 1,000-mile trek a try, and there's ample reason to hope that the Worrell 1000 will return to the Hatteras Island shores in 2020 as well.
"We would love to have them again," said Janet Morrow Dawson. "Those three teams took a chance seeing how the [initial] race would come together, and I think after this success, there will be many more boats for next year's race."