Editor's Blog: The new Sediment Management Framework, and why it's important
In mid-May, the Cape Hatteras National Seashore (CHNS) announced that they had signed the Record of Decision for the Sediment Management Framework, a project that had been in the works for over a year.
It's a story that received limited attention, (understandable, since the diminishing Coronavirus pandemic and the return of summer events have been taking up the bulk of the islands' recent headlines), but it's an endeavor that could have big impacts down the road.
So let's take a closer look at what the clunky-sounding Sediment Management Framework entails, and why it's both important and happy news for anyone who loves Hatteras and Ocracoke Islands. It's always refreshing to be able to talk about good news these days, and this is one of those stories that certainly fits the bill.
So what exactly is the Sediment Management Framework?
Per the CHNS, the Sediment Management Framework is "a streamlined framework for implementing sediment management at the Seashore, including the method, location, and frequency for sediment management actions that may be permitted over the next 20 years."
That's a mouthful, but here's the meat and potatoes of the initiative:
Over the past few decades, National Park Service (NPS) officials have received a number of requests for special use permits to alter the CHNS beaches in some way, for various projects. Basically, because the entire shoreline on Hatteras and Ocracoke Islands is NPS property, you can't make big changes to the islands without getting permission first.
This process was designed to keep the beaches along the islands pristine and in a natural state, (which are the attributes that attract visitors and residents to begin with), but the process was not without its headaches.
Before a Sediment Management Framework existed, obtaining the greenlight for an induvial project could take anywhere from 12-18 months, and sometimes the islands don't have time to wait. As any long-time local or visitor can attest, the shape of the shoreline has changed dramatically over the past couple of decades due to erosion, and these unintended changes can severely damage essential infrastructure such as roads, bridges, electrical transmission facilities, etc.
"We know the beaches on CHNS are eroding quite quickly. We have rates of erosion that are 10-20 feet per year," said David Hallac, National Parks of Eastern North Carolina Superintendent.
"Historically, whether there were island breeches from storms like Hurricane Irene, or requests from Dare County like the Buxton beach nourishment project, approving these projects took time… But our partners [need] to protect critical areas of the park, such as N.C. Highway 12, or the water line, or we may be working with CHEC and they'll need to protect the transmission corridor."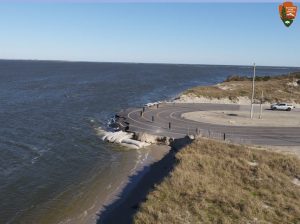 The Sediment Management Framework, which will be in place for the next 20 years, changes the old process and makes it much easier to address these shoreline-related issues as they arise.
Basically, it gives the National Park Service the ability to rapidly provide permission for beach nourishment, implementation of habitat restoration projects, dune restoration, or emergency bridge repairs, and often within days.
"Now we have a checklist instead of a [lengthy] permit process," said Hallac. "If, say, Dare County submits a permit application that identifies that all special conditions are met, we would now have the ability very quickly – within days or weeks – to issue the permit without review."
During the year-long undertaking to bring the Sediment Management Framework to fruition, the NPS reached out to the public to offer several options on how to handle these requests for special use permits, which ranged from No Action to permitting multiple activities, so long as certain criteria were met. In the end, the NPS went with Alternative B, which is as follows.
Alternative B: Proposed Action – The NPS can permit other agencies and municipalities to conduct, with conditions, sediment management in the form of:

Beach Nourishment
Habitat Restoration
Dune reconstruction and enhancement
Emergency breach fill
So how will this impact projects in the next 20 years? Well, there are already a couple of projects in the hopper that will benefit from the new framework.
The two island projects that will be immediately impacted are the Buxton Beach Nourishment Maintenance project, which is scheduled to occur next year, and a potential Avon Beach Nourishment project, which is currently being considered and is also slated for 2022, if approved by the Dare County Board of Commissioners.
But in addition, there are also ongoing discussions about potentially taking material that is dredged out of Hatteras Inlet, and using it to bolster the southern edge of Hatteras Island. This could be a huge benefit to mariners and residents alike, as dredge spoil sites can be sparse and hard to come by in the inlet itself, and the need for future dredging to keep Hatteras Inlet open is basically a certainty.
"The Army Corps of Engineers is looking for locations to place that [dredge] spoil, and we have lost considerable habitat on southern end of Hatteras Island, so we see a lot of possibilities there," said Hallac. "This permit and plan would allow those projects."
The Sediment Management Framework will also help in future emergencies, if the islands encounter another severe and storm-related breech like 2003's Hurricane Isabel or 2011's Hurricane Irene.
During Isabel, a wall of water washed out a 2,000 ft. portion of Hatteras Island between Hatteras and Frisco, while after Irene, multiple inlets suddenly formed in between Rodanthe and Oregon Inlet, resulting in the construction of the island's first new bridge since 1963. (Remember the old Lego Bridge that was quickly built in the wake of Irene, prior to the Captain Richard Etheridge Bridge? I got so used to the steady "TA-DUM, TA-DUM, TA-DUM" sound that occurred every time you crossed it at 25 mph.)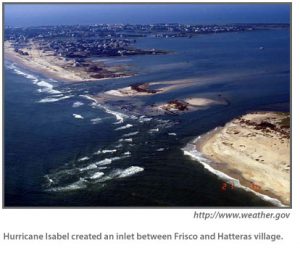 Both of these emergency projects took weeks to complete, forcing island residents to rely on emergency ferry service, or in the case of 2003's Isabel, to remain somewhat stranded in Hatteras village as the repairs were conducted. Granted, issuing a NPS special use permit for these emergency projects did not take months like other, less-critical projects, but it did take extra time, and as anyone who lived through these storms knows all too well, when it comes to getting the island back in shape and open again, every second that can be spared counts.
Now, it should be noted that the Sediment Management Framework doesn't apply to every single potential project on the National Seashore. For example, if an oceanfront homeowner wants to do a solitary beach nourishment project in their front yard, it won't apply. Instead, the framework is geared towards larger projects conducted by larger agencies, like NCDOT, Cape Hatteras Electric Cooperative, and Dare and Hyde Counties.
In addition, these organizations need to meet a number of conditions to receive quick approval to move forward, such as ensuring that seasonal sea turtle nests are moved or unaffected, or making sure that the "material" – or sand – that is being used closely matches what already exists on the shoreline. CHNS will also review the best science available every two years to ensure that the conditions earmarked in the framework remain current. "The purpose of this plan is really to protect your national seashore," said Hallac.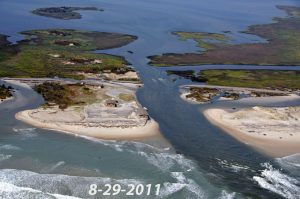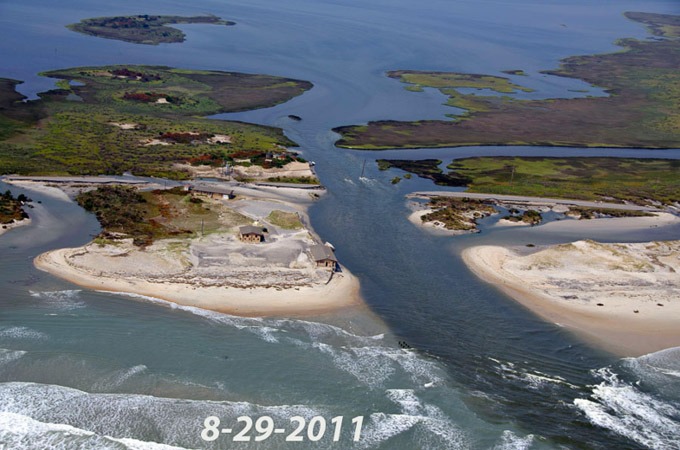 But even with these minor limitations, the Sediment Management Framework is nevertheless a huge step forward when it comes to future projects that keep our islands running, and especially when it comes to storms or the impacts of continuing erosion.
Unfortunately, there is a high likelihood that beach nourishment, new bridges, roadway relocation, or similar projects will be needed in various hotspots along the islands to keep N.C. Highway 12 high and dry, and the framework will speed up the process when erosion issues force the powers-that-be to take action.
If you want to get into the nitty-gritty details of what the framework includes, you can view the Record of Decision, the Environmental Impact Statement, and other associated documents at parkplanning.nps.gov/CAHAsediment. In addition, you can see the options that the NPS considered for the plan – as well as the public's response – via our stories on the project here, here and here.
But if you don't want to spend an afternoon reading about the finer points of sediment, just know that the Sediment Management Framework exists, it's in place for the next 20 years, and it will make life easier, no matter what new hurdles and challenges the ever-changing shoreline brings.