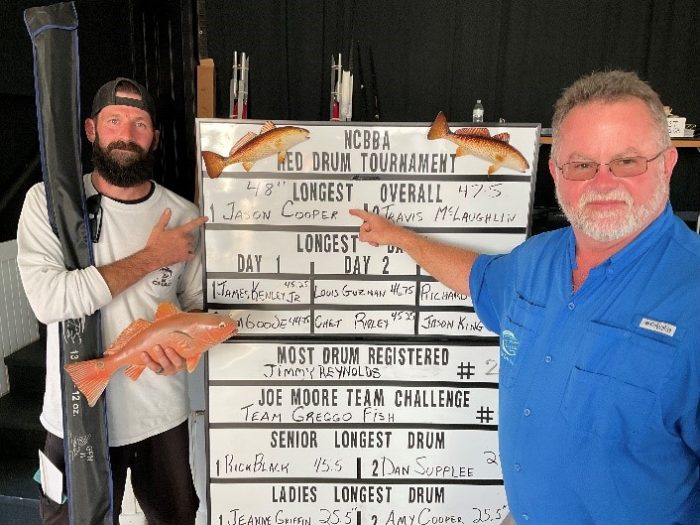 By Al Adam, Vice President of the North Carolina Beach Buggy Association
The 12th annual North Carolina Beach Buggy Association (NCBBA) Red Drum Tournament was held on the beaches of Hatteras Island from Ramps 23 to 38 on Wednesday, October 20, through Saturday, October 23.
A record 369 anglers enjoyed excellent weather but challenging fishing conditions. The full moon is spectacular on the beach, but unfortunately, does nothing for catching fish, and the predominantly west winds are not known for producing great catches on our east-facing beaches. Despite the difficult fishing conditions, individual anglers and teams enjoyed the opportunity to fish 60 continuous hours on the "Goodliest Beaches on Earth."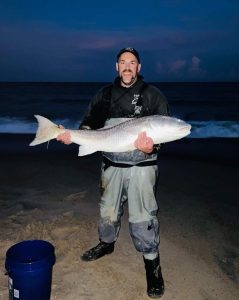 The tournament kicked off with a first-time drive-through registration, at the parking lot of the Koru Beach Klub adjacent to the Avon Pier, which proved to be very efficient and popular with registrants.
Tommy Farmer of Carolina Cast Pro and Ryan White of Hatteras Jack provided demonstrations on Wednesday morning at ORV Ramp 34. Tommy did his casting technique program, while Ryan talked about reading the beach and alternative techniques. Drive-through pre-registered anglers continued signing in at the parking lot until 6:30 p.m., after which, all walk-in and pre-registered anglers were directed to Frank and Fran's Tackle Shop, which for the 22nd year or more, once again served as tournament headquarters.
After getting their angler packets and/or judge packets, most headed directly to the beach to stake out their location, prep their gear, and prepare for the midnight start of the tournament.
The challenging conditions resulted in 27 total drum caught, measured, and safely released, as well as 13 sea mullet and 13 bluefish that made the required minimum lengths for scoring.
Jason Cooper from Columbus, Ohio, was the big winner with the longest red drum overall. The 48" beauty was enough to qualify Jason for the first prize, a $2,000.00 value.
Although only some fortunate anglers took home prizes, we believe that all were winners. The venues ranging from the beaches to the banquet held at the Beach Klub were spectacular, and the comradery among team and individual anglers – and the family-friendly atmosphere – all contributed to an awesome time for participants.
Joe Thompson was most gracious in allowing us to use the parking lot for the registration, as well as the Klub itself for our afternoon banquet on Saturday, October 23. The delicious food menu was provided by Sharky's BBQ and Seafood Catering.
Thanks to Tournament Director Bill King and his RDT committee, and the many volunteers who worked hard during months of preparation and throughout the tournament. Thanks to George Mood, Head Judge, and Bobby Halstead, Assistant Head Judge, and their judge team who make the tournament possible.
Thanks to our all great sponsors who contribute so much towards our tournament, so that the remaining proceeds may be used towards our scholarship and other community needs. Those who contributed to the "Shop with a Cop" program can feel confident that they will make some needy children in Hyde and Dare Counties have a better Christmas than may have otherwise been without a gift.
Work has already started on the 2022 Red Drum Tournament. We're looking forward to a bigger and better tourney realizing that this one may be hard to beat.