Input workshops on dolphin/mahi mahi management scheduled for January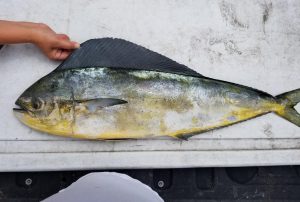 NOAA Fisheries is holding a series of in-person workshops in January to gather input from stakeholders in the region that will guide management of dolphin, also known as mahi mahi and dolphinfish.
The workshops are being led in collaboration with the South Atlantic Fishery Management Council, and build on previous participatory workshops on the dolphin/wahoo fishery.
Results from this previous effort indicate that a more flexible management approach is needed to respond to changing conditions and levels of abundance, and to account for regional differences in the dolphinfish fishery.
Stakeholder input will help regulators identify and rank the relative importance of management objectives (e.g. high catch, consistency of catch, long seasons) across the region.
It will also help to determine where the major risks and uncertainties lie within the stock and fishery.
This input will be used in a management strategy evaluation to develop a management procedure that best achieves the suite of management objectives identified for the U.S. Atlantic dolphinfish fishery.
Agenda items for the meeting include:
Introducing management procedures and management strategy evaluation
Understanding how stakeholders value the dolphinfish fishery
Understanding the biggest risks and concerns that need to be accounted for
Receiving input on the type of management procedures to be explored
Identifying participants for continued involvement in the management strategy evaluation process
Upcoming meetings include:
January 24, 2023 5:30 – 8:30 p.m.
Location: University of North Carolina Wilmington – Center for Marine Science, 5600 Marvin Moss Lane, Wilmington, North Carolina 28409
January 25, 2023 5:30 – 8:30 p.m.
Location: Coastal Studies Institute, Room 242, 850 NC-345, Wanchese, North Carolina 27981
January 26, 2023 5:30- 8:30 p.m.
Location: Brock Environmental Center, 3663 Marlin Bay Drive, Virginia Beach, Virginia 23455
Additional information can be found at https://www.fisheries.noaa.gov/event/workshops-discuss-dolphinfish-mahi-mahi-management-strategy