Island Fishing: September fishing report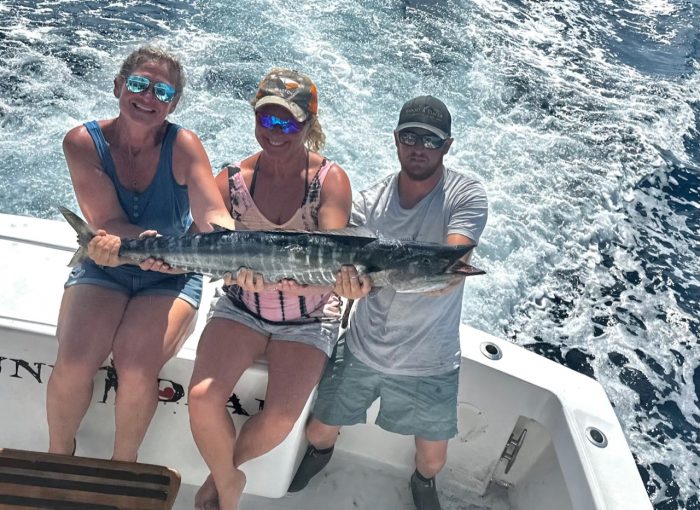 September has been bringing us some slightly cooler days and great fishing!
Although we've had to contend with the peak of hurricane season bringing some storms through the area and putting a cramp in many visitors' plans, it's certainly not all bad news for anglers. The most recent storm, Hurricane Lee, passed off our coast, causing high winds and extremely choppy waters. While boaters were mostly held to the docks for a few days, the surf fishing was kicking off. Rough waters created great conditions for red drum catches, and the reports of both bull red releases and slot-size catches have been plentiful.
As waters are calming down, we're still seeing good catches of other species for beach and inshore fishermen. Bluefish remain consistent, and trout and sheepshead are making regular appearances as well. A few ribbonfish have been showing up in catches over the last few days, and reports of Spanish mackerel have been scattered overall.
But for many, the focus inshore and in the sound has switched, as we are now in the very brief flounder season, from September 15 until September 29. There have been some reports of flounder caught in the Pamlico Sound in the last few days, but conditions haven't been great so far. Many anglers return to Hatteras Island year after year just for the flounder season, so hopefully the rest of the month will bring better weather to accommodate them.
Offshore, the wahoo fishing has been great, both before and after Hurricane Lee passed the Outer Banks. Boats have consistently been bringing in nice wahoo catches most days, and they've been good-sized fish as well. Some boats are also managing to fill the boxes with plentiful catches of blackfin tuna, a trend typical for cooler months, and one that will hopefully continue throughout this fall.
There have also been some king mackerel in the mix for many offshore boats, and as of this past weekend, we saw a spike in mahi mahi catches again – a surprise after how slow it's been over the past couple of months. Billfish releases are bringing in some excitement as well for the true sport fishermen, with offshore vessels flying flags for sailfish, and blue and white marlin.
Islanders are watching the forecast for this weekend as a potential low pressure system begins to move up the coast. It's currently lacking formation, but is still expected to bring high winds and rain for a couple of days.