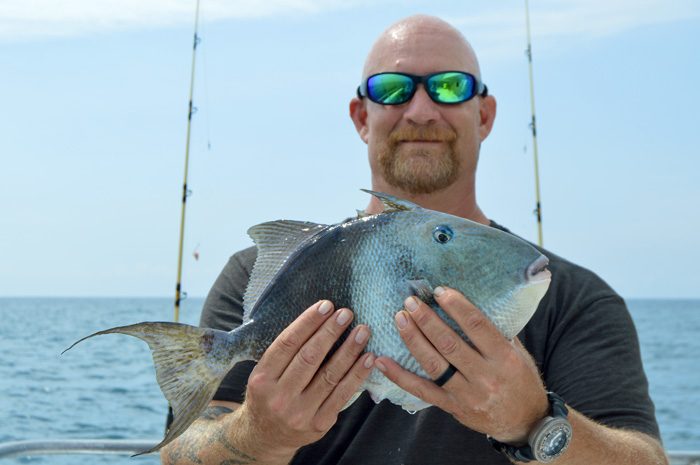 Summer is in full swing and is cruising right along. The weather is in typical summer fashion, with a chance of rain in some form most days of the week, and an ever-changing wind direction, but for this week, the weather looks amazing, with light and variable winds. The lighter winds are definitely welcome, as the wind has been tough for most of the spring.
The fishing remains good, overall, offshore and inshore.
While the tuna bite isn't quite as hot as it was a few weeks ago, it is still good, though the sharks may want your fish sometimes more than you do. Get past them, and there has been a mix of big eye, yellowfin, and blackfin being reported by the fleets, along with a decent mahi bite. Some blue marlins, wahoo, and white marlins have also been caught trolling. Grouper, tilefish, seabass, and triggerfish are being put in the coolers off the bottom.
The inshore boats continue to catch speckled trout, and though that bite has also slowed, the quality of fish at times have been very nice with some really large fish being caught. Puppy drum are also being taken in fair numbers. Sometimes, one may have to weed through a fair amount of small throwbacks, but there are some keepers around. Sheepshead are still biting, and can be found on structure.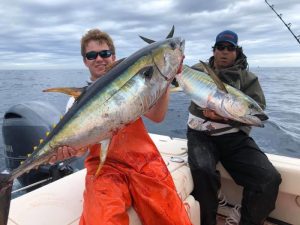 Nearshore boats report some nice Spanish fishing, bluefish, and ribbon fish. There is the scattered cobia being caught, but the bulk of the schools are already in the Chesapeake Bay.
Beach and pier fishing have produced some nice sea mullet, pompano, bluefish, and Spanish mackerel.
I've kayaked fished and wade fished and done well with both, but I also got out on the Miss Hatteras with my wife.
The Miss Hatteras is a head boat, also known by some as a party boat. This basically means that the boat is comprised of a bunch of different people looking to fish. It is generally an economical way to get on a boat, when you're on a budget, or trying to introduce children or adults to fishing for the first time.
The Miss Hatteras is unique on the Outer Banks in the sense that it goes offshore to fish for both half day and full day trips. These trips provide an angler the opportunity to catch a variety of great eating bottom fish. Triggerfish, Seabass, Red Snapper, groupers, and more may be had on these affordable trips. Most head boats will supply the necessary gear one will need, which includes all the tackle and bait, making it a walk-on situation.
I grew up fishing head boats, with my grandfather and father on the Chesapeake Bay in the 1980s. The boats would pull up right to Harrison's Pier in Ocean View, and you would walk down a ramp to a platform and get on the boat. I have fond memories of fishing like this for flounder, spot, and croaker as a young kid, so I feel right at home on the Miss Hatteras.
The former Captain, Spurgeon Stowe, was quite the character, and I always looked forward to fishing with him, but the time came for him to retire and the boat was passed on.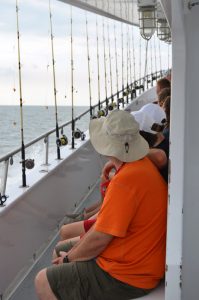 The new Captain, KP Scott and his wife Natalie, now operate the boat. Interestingly enough, the pair met while working for Spurgeon as mates. The two have spent the last 20 years working on the Miss Hatteras and know everything there is to know about the boat, the trips, and the fishing. KP was an English major and Natalie a forestry major, who both found their way to Hatteras and the Miss Hatteras after college, and never left. Now they run the boat, while raising their children and doing what they have come to love and are now fully vested in.
The boat also has two mates, Wolfgang and Nathan, who I knew when they were just young kids, and who are now making their way into a piece of Hatteras history.
My wife, Lisa and I, were excited to get to fish with the new crew finally, as previous trips had been cancelled due to weather. It was a nice morning, with fair weather and winds for this four-hour trip. We brought our own gear for bottom fishing for triggerfish and seabass. We love to fish like this, and always get excited for it.
Hatteras Inlet is a tough go right now for the fleets, and KP is only able to run one offshore half-day trip, per day, due to tides. However, KP knew just how to make sure we were safe getting through, and all went well on our way out.
We rode for about an hour from the dock to get about 5 miles or so off the beach, where we made our first stop. KP sounded the horn, which when you pull up and the motor is disengaged is the sign to drop your lines. It's the same, when it's time to reel them in for a reposition or new spot move. When the horn sounds I feel like a young kid again, as I feel like it is a starting gun at a race. Lisa and I let our baits drop and almost immediately we get bites. We were reeling in small seabass from the word go. We were stoked. It took a little while and a change of spots before we saw some keeper seabass and triggerfish, but that's fishing. For roughly two hours, the wife and I had a blast fishing and waiting for those subtle bites, and the wife was disappointed when she knew we had to go back in, so she had me book a couple more all-day trips this summer.
We landed back at the home port of Oden's Dock, lined up some more trips, and said our goodbyes to an amazing crew.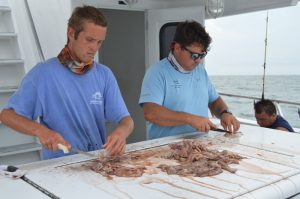 There are a ton of great Captains all along the Outer Banks that offer a variety of trips and experiences, and this is just another good one to look into. This boat can hold up to 30 people, but don't be fooled – this boat and set up can get the job done. They offer red snapper trips in July, while the season is open, and they do live baiting trips in November for king mackerels.
Everyone's budget is different… fish accordingly or just try something new.
On a bright note, if you can't get out or you strike out, the recent weeks of great fishing has yielded a plethora of different fish in the local fish markets. Whether you catch it or buy it, an Outer Banks feast awaits you.
Until next time, good luck and happy hunting.
Rob Alderman has lived on the Outer Banks for nearly 20 years and chased fish the entire time. He is a former fishing TV show host and producer and currently runs kayak fishing charters. You can find more about his trips at www.OuterBanksKayakFishing.com