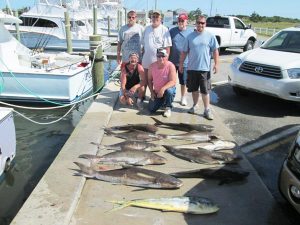 Hey guys, sorry about the absence. I've been busy as a long tailed cat in a room full of rocking chairs. Hatteras Island is booming now, and if you aren't here, somebody's got your spot! Every day I see tons of happy visitors. All the charter boats are rolling along, there are kayaks and paddle boards at every turn-off, and kite surfers on the breezy days. 4x4s with rod racks and coolers head on and off the beach at every ORV ramp, and happy families are found at all of the parking areas and around the docks.
I've got a lot of catching up to do on my fishing report. Generally you can tell a lot about our economy by how busy the charter boats are. Everybody is sailing… and catching! May yielded great gaffer dolphin fishing, as usual. As of late, more of the school size "bailers" have become prevalent, but there are still big ones being caught as well. The early spring wahoo blitz simmered down temporarily, but there are still a few coming in each day. Blackfin tuna fishing has been and still is great, and there's also been a fair sign of yellowfins. The bottom fishing boats have been killing lots of triggerfish, vermillion snappers, sea bass, tile fish and grouper. We have been in a stretch of beautiful weather for quite some time, and it looks like the rest of this week should be great as well.
The inshore fleet has had excellent fishing, and quite the variety. The cobia sight-casting season has wound down for the most part, but there were a lot of big fish landed. There are still a few being spotted, but most of the sight-casting efforts are being concentrated on the big red drum now. Spanish mackerel and blue fishing has been epic, and we have all enjoyed taking families out to troll or cast for these fun little fighters. The speckled and grey trout have made an excellent showing already, and it looks like we are in for a great year in the sound for them. Clamming has been great, and it's quite a treat to be in the water on those hot days.
I stopped and had lunch with my daughter in Nags Head yesterday, and ordered a blackened yellowfin tuna wrap. Let me tell you, there is nothing like fresh North Carolina seafood, and my thanks and appreciation go out to all the hardworking commercial fishermen who make it possible to enjoy such a nice fresh meal!
The netters along the beach have been plucking along at the Spanish mackerel, while the offshore commercial boats have been bottom fishing or tuna fishing. Crabbers have their pots set hoping to bring in great catches of blue crabs for the market as well.
Surf fishermen are catching a little bit of everything, including blues and Spanish mackerel, sea mullet, pompano, drum and blow toads. I have to give a shout out to my buddy Lee Scarborough who managed to land an 83-pound cobia in the surf last month, while drum fishing! Impressive!
If you have reservations to stay with us this summer, we can't wait for you to come enjoy the island with us! If you don't, well, you're missing out. The water is clear, the fishing is great and the beaches are beautiful! See you soon!