The N.C. Marine Fisheries Commission is moving forward with management measures for the blue crab fishery designed to end overfishing and achieve sustainable harvest.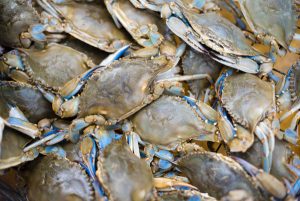 The commission last week selected management measures for the draft Blue Crab Fishery Management Plan Amendment 3. The draft amendment will now be sent for departmental review.
Selected management measures would:
Implement a closed season (which will replace the current pot closure period)

Jan. 1-31 north of the Highway 58 bridge to Emerald Isle
March 1-15 south of the Highway 58 bridge;

Implement a 6.75-inch size limit for mature female crabs north of the Highway 58 bridge;
Prohibit the harvest of immature female hard crabs statewide;
Retain the current 5% cull tolerance;
Retain the current cull ring number and placement requirements;
Remove all cull ring exempted areas;
Expand the existing spawning sanctuaries in Drum Inlet and Barden Inlet;
Establish new spawning sanctuaries in Beaufort, Bogue, Bear, Browns, New River, Topsail, Rich, Mason, Masonboro, Carolina Beach, Cape Fear River, Shallotte, Lockwood Folly and Tubbs inlets with a March 1-Oct. 31 closure;
Prohibit crab dredges;
Prohibit crab trawls in areas where shrimp trawls are already prohibited in the Pamlico, Pungo, and Neuse rivers;
Reduce the crab bycatch allowance for oyster dredges to 10% of the total weight of the combined oyster and crab catch or 100 pounds, whichever is less;
Develop a specific crab pot funnel design to reduce diamondback terrapin interactions and identify individual areas with terrapin hotspots where use of the terrapin excluder device will be required;
Work with other commissions and state agencies to address water quality issues affecting blue crab.
Reductions in harvest are necessary because a recent North Carolina stock assessment for blue crab determined the stock is overfished and overfishing is occurring. Overfished means the population is too small. Overfishing means the removal rate is too high. North Carolina law mandates that fishery management plans include measures to end overfishing within two years of adoption and rebuild the stock to achieve sustainable harvest within 10 years of adoption. The options addressing sustainable harvest are predicted to reduce harvest by 3.1% meeting the mandated reductions.
The Marine Fisheries Commission is scheduled to consider final adoption of the draft Blue Crab Fishery Management Plan Amendment 3 in February 2020. Approved management measures will be implemented shortly afterward by proclamation.
In other business, the commission voted to:
Continue the joint discussion process of the Wildlife Resources Commission/Marine Fisheries Commission Joint Committee on Delineation of Fishing Waters, seeking input from other impacted environmental boards including the Coastal Resources Commission and the Environmental Management Commission, as well as support from staff;
Recommend that the governor consider the Dewey Hemilright of Kitty Hawk, Brent Fulcher of New Bern, and Robert Ruhle of Wanchese as nominees for the Mid-Atlantic Fishery Management Council obligatory seat;
Accept a report regarding a study on reducing user conflicts related to shellfish cultivation leases as a guideline for moving forward on the issue;
Approve a four-year schedule to readopt the Marine Fisheries Commission's rules in 15A NCAC 18A by June 30, 2024.