New research aims to keep sharks away from commercial fishing gear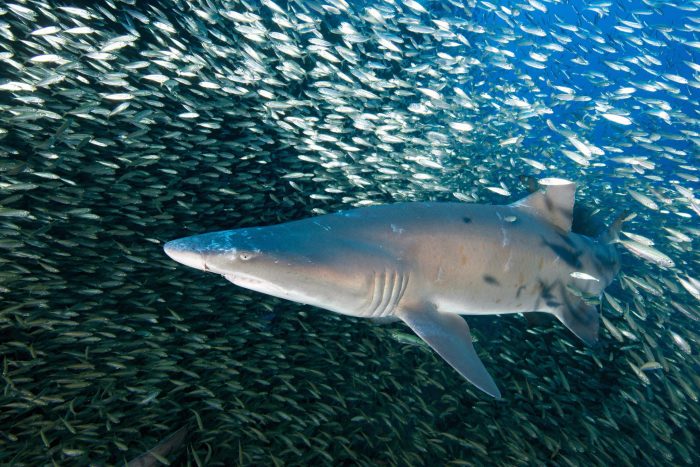 From the Winter 2022 Issue of Coastwatch
North Carolina Sea Grant's Sara Mirabilio is continuing collaborative research to keep sharks away from commercial fishing gear. A multi-campus team is partnering with the private sector to pilot test a device that deters the predators.
"Several sharks are overfished or are experiencing overfishing on the U.S. East Coast," says Mirabilio, a fisheries extension specialist. "Populations of scalloped hammerhead, dusky, sandbar, and blacknose sharks all could benefit from an effective deterrent from commercial fishing gear."
Most often, sharks are caught unintentionally — as "bycatch" — when fishers are targeting other fish, she explains.
Mirabilio and colleagues, including Richard Brill, an affiliated scholar at the Virginia Institute of Marine Science, are further testing a state-of-the-art electronic device that could help conserve species of sharks whose populations fishery managers are trying to rebuild. Brill says that unlike other fish, sharks possess an electrosensory system that equips them to detect close-range movements of predators or prey.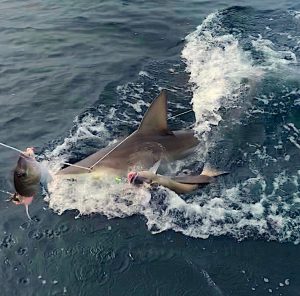 "The objective of the project is to keep the sharks away from the fishing gear, not the fishing gear away from the sharks," says Brill. "To an approaching shark, even a weak electrical impulse can be disorientating or physically uncomfortable." The device produces a small electric field around a baited hook
The team also includes Peter Bushnell, emeritus professor at Indiana University-South Bend, as well as IUSB physicist and astronomer Ilan Levine, fish ecologist and fisheries biologist John Mohan at the University of New England, and marine scientist Walter Golet at the University of Maine and the Gulf of Maine Research Institute. The project works closely with industry experts, who say reducing shark-gear interactions also will bring savings to commercial fishing operations.
"Sharks eat the fishing boat's intended catch before it can be brought aboard," explains Capt. Matt Huth, one of the team's commercial fishing industry partners and the owner of Fresh Catch Seafood.
Huth's business operates a family fleet of open-sea longline fishing vessels. According to Huth, sharks "conservatively" can cost open-sea longline operators tens of thousands of dollars each year in reduced catch, gear damage or loss, and additional time needed to retrieve gear.
Mirabilio says it's no surprise that earlier surveys have shown that commercial longline fishers are motivated to use a device that deters predators. "Beyond the economics, keeping sharks away altogether is more acceptable to the industry than time-area closures, mandatory release, and the use of specific hook types or configurations of longline-gear."
Sea Grant funded development of an industry‐deployable, microprocessor‐based, shark bycatch reduction device (M‐B BRD). Mirabilio then evaluated its performance using a 150‐hook, three‐mile, bottom longline deployed from a commercial fishing vessel operating in coastal waters from Oregon to Hatteras inlets in North Carolina.
Over the course of 15 fishing days last year, a total of 141 sharks from nine species were captured on all but 34 hooks near M‐B BRDs that emitted no electric pulse. In contrast, an active M‐B BRD reduced shark catch by greater than 50%, although the effectiveness of the bycatch reduction devices was species‐specific.
Mirabilio and her colleagues are now refining their current M-B BRD design to increase its  practicality and manufacturability, as well as to enhance its usability both at larger distances from baited hooks and at greater depths. The team will conduct a new round of field tests with commercial operators.
"NOAA has made reducing shark bycatch a management priority," says Mirabilio. "Positive results with our refined design would demonstrate that this device could help reduce shark bycatch nationally — and globally."
The National Sea Grant College Program provided the initial funding for Mirabilio's project, which has received new support through NOAA's 2022 Saltonstall-Kennedy Competitive Grants Program