Work continues on the construction of the Outer Banks' newest artificial reef, AR-165.
On January 27, 2020, The Outer Banks Anglers Club, in partnership with the North Carolina Division of Marine Fisheries, began construction of the new artificial reef by sinking the 88' ft. tug, American, about eight miles south of Oregon Inlet. Since then, work has been progressing on procuring concrete pipe and other fabricated concrete structures to compliment the tug as an underwater habitat.
On Monday, March 30, a total of approximately 4,000 tons of concrete pipe was placed at two locations within the perimeter of the reef site.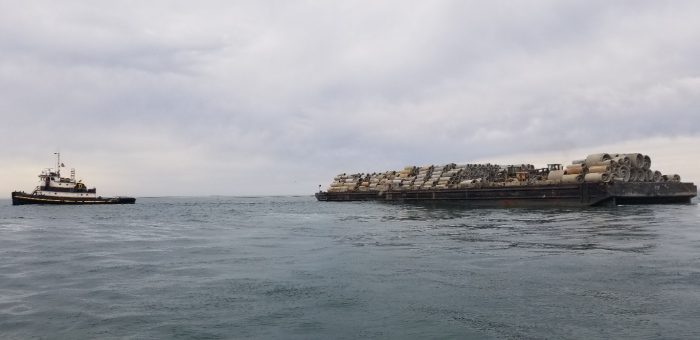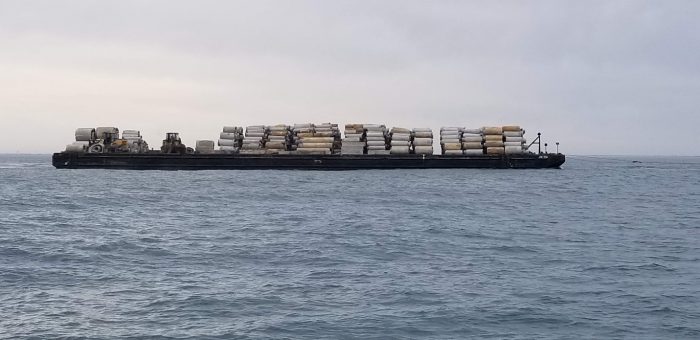 Two more tugs, the America (104') and the Valley Forge (110') are being prepared for sinking at the reef site. An additional 3,250 tons of fabricated concrete also will be added to the reef site, and all work is scheduled to be completed by June 30, 2020.
The new Artificial Reef, (AR-165), is sponsored by the Outer Banks Anglers Club Artificial Reef Committee, and the ensuing reef will provide exceptional fishing grounds to anglers who are somewhat close to shore.
The Outer Banks Anglers Club received an $882,000 state grant to build the reef, which stemmed from the sale of coastal recreational fishing licenses, as well as donations for the project, including a substantial $20,000 contribution from TW's Bait & Tackle.
The project has been in the works for roughly seven years, and the reef is also being bolstered with discarded material from the old Bonner Bridge, which is in the process of being demolished.