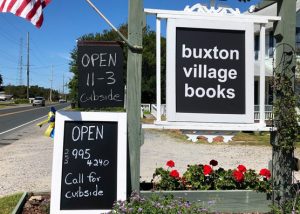 It's book fair week at Dare County Schools, well… virtually! Local booksellers Jamie Anderson of Downtown Books in Manteo and Gee Gee Rosell of Buxton Village Books have teamed up to host an online book fair to benefit all 10 Dare County Schools libraries.
Through October 10th, proceeds from purchases made on the bookstores' affiliate pages on bookshop.org will be donated to the Dare County Schools. Librarians will use these funds to provide more eBooks and Audiobooks for readers of all age groups, available through the Sora online collection. Shoppers can access either site (bookshop.org/shop/downtownbooks or (bookshop.org/shop/buxtonvillagebooks) to purchase books to benefit the Book Fair.
Librarians and booksellers both love the opportunity to recommend good reads, which presented a challenge when the fair shifted online. Instead of displays of books, librarians of every grade level, and our local booksellers, came up with recommended reading lists that are available on the affiliate pages and on the one-stop hub for information, bit.ly/darefair. On this webpage, several teachers, librarians, and even a school nurse, provided book talks – short commercials recommending some of their favorite books.
While the event is a fundraiser for readers in Dare County Schools, purchases can be made by anyone, anywhere. Bookshop.org is backed by a large warehouse, Ingram, that provides books for readers of all ages; including bestsellers, pre-orders of upcoming titles, board books, activity books, and puzzles. Bookshop.org launched earlier this year, to help independent bookstores compete with other online megastores and so far, over 7 million dollars has gone back to local bookstores across the country, like Downtown Books and Buxton Village Books.
Kitty Hawk Elementary Librarian, and Dare County Schools Teacher of the Year, Ellen Bryson, shopped the day the book fair opened. She says, "They have everything I would want, including presales! I ordered the new Alan Gratz, books off Project Lit list, the new Scott Reintgen and more. Presents for my nephew and books for me. And they arrived in three days."
Downtown Books and Buxton Village Books bookshop.org/shop/Buxton village books) have been long time supporters of Dare County Schools. Their stores, and their bookshop.org affiliate pages, can be shopped year-round.