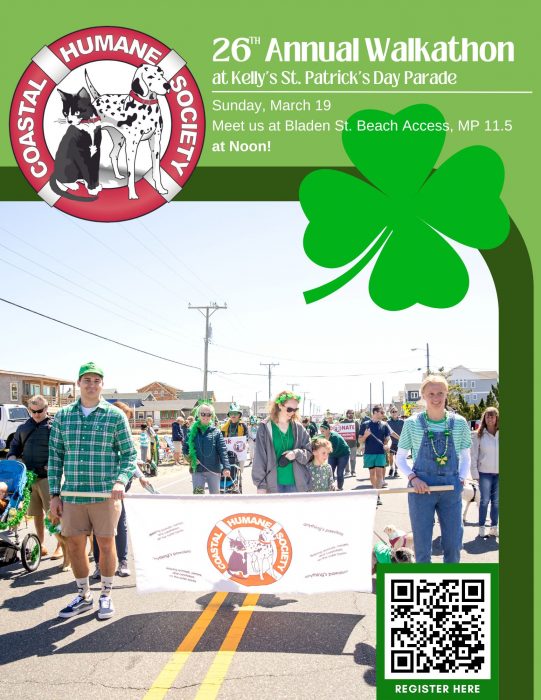 The Coastal Humane Society is looking for participants to join in their 26th Annual Walkathon at the Kelly's St. Patrick's Day Parade on March 19, 2023, in Nags Head.
Participants will raise money for the Coastal Humane Society by sniffing out sponsors and retrieving donations to join the pet-friendly pack in the parade.
The Walkathon always attracts residents and their furry companions from Hatteras Island, and interested volunteers can learn more and register online at https://obxcoastalhumanesociety.org/.
Details on the Walkathon:
Date: Sunday, March 19
Time: 12 p.m.
Meet at Bladen Street Beach Access (MP 11.5) on Beach Rd. at 12pm on Sunday, March 19th. Turn in your donations and get a picture taken of your dog family
Volunteers march at 12:45 p.m., and the route ends at the Ghost Fleet Gallery where there will be water for the pups and transportation back to Bladen Street Beach Access if needed.
About the Coastal Humane Society:
For 26 years, the Coastal Humane Society has been an all-volunteer community organization relying totally on donations and fundraisers to carry out its mission.
In 2022 with the help of the Outer Banks Community Foundation, the Coastal Humane Society shared the cost of spaying, neutering, and medically treating 214 dogs and cats.
Over 10,000 Outer Banks pets and families have been helped since 1997.
Along with veterinary partners, the Coastal Humane Society was able to hold seven low-cost vaccination clinics in 2022, resulting in 349 dogs and cats receiving vaccines.
To learn more about Coastal Humane Society's local impact, read the 2022 Annual Report here. To download the Walker Packet, click here.