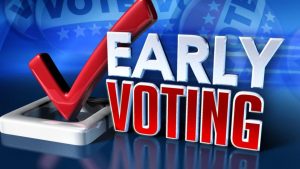 One-stop absentee voting, more commonly known as early voting, begins on February 13 in Dare County, roughly three weeks away from the March 3 primary day.
During the early voting period, any registered voter can cast an absentee ballot in person on select days prior to Election Day. Unlike on Election Day, when registered voters can only vote at their specific precinct, early voting allows members of the community to vote at any of the absentee voting site in the county.
There are three early voting sites, which includes the Fessenden Center Annex in Buxton on Hatteras Island.
Early voting sites in Dare County are as follows:
Fessenden Center Annex at 47017 Buxton Back Road, Buxton
Dare County Administration Building at 954 Marshall C. Collins Drive in Manteo
Kill Devil Hills Town Hall at 102 Town Hall Drive, Kill Devil Hills
The sites are open on weekdays from Feb. 13 through Feb. 29, from 8:00 a.m. to 7:30 p.m.
The sites are closed Saturdays with the exception of Saturday, Feb. 29, when they will be open from 8:00 a.m. until 3:00 p.m.
For more information on early voting as well as the March 3 primary, visit https://www.darenc.com/departments/board-of-elections