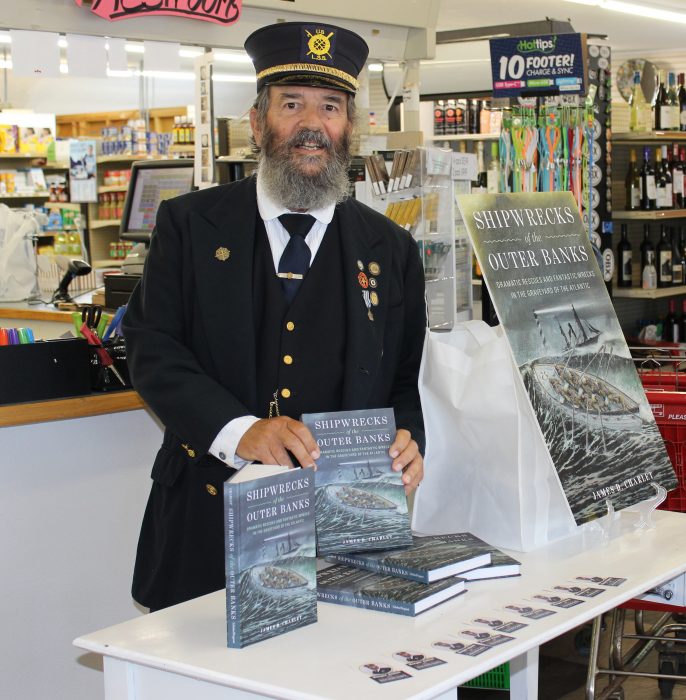 On Wednesday, August 2, from noon to 3:00 p.m., at the Island Convenience store in Rodanthe, Hatteras Island's own James D. "Keeper James" Charlet will be signing and personalizing copies of his book, Shipwrecks of the Outer Banks: Dramatic Rescues and Fantastic Wrecks in the Graveyard of the Atlantic, Globe Pequot Press.
"We have had such amazing events at this particular location. It is just wonderful. We will just keep doing this. Besides, this is home." said Keeper James. His wife and business partner, "Miz Linda," added, "We always meet the nicest and most interesting people. We think it is important to shop locally. And besides that, we have so much fun with the staff of Martha, Myra and Joey, who we consider friends."
Keeper James' book has been such a national bestseller that the first print run is out and is now available on-demand. It has proven to be a popular local book signing event at the Island Convenience store in Rodanthe and has consistently sold out at the Cape Hatteras and Bodie Island Eastern National Book Stores. As usual, special bookmarks with the place and date will accompany each book but will be limited to the first ten customers.
The Island Convenience is one of the very first stores on Hatteras Island, just after the Jughandle bridge, at 23532 North Carolina Hwy 12, Rodanthe, NC 27968.
Keeper James Presentations TM is a series of live programs presented by local historians, historical interpreters and performers Keeper James Charlet and Miz Linda Molloy. Each program about the U.S. Life-Saving Service consists of appetizers of true, exciting, highly dramatic Outer Banks stories of 'America's Forgotten Heroes.' For more information, see www.KeeperJames.com/programs.