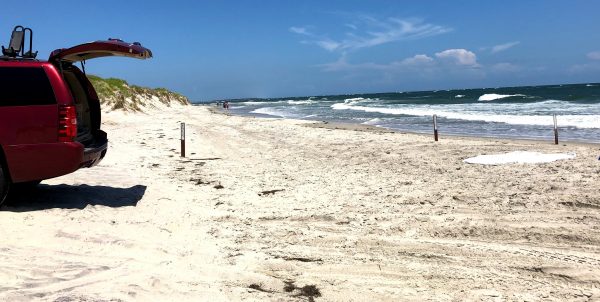 The Coastal Resources Commission has rescheduled a public hearing on oceanfront erosion rates that was originally scheduled for Oct. 8 in Ocracoke.
The public hearing will be held on Oct. 30 at 10 a.m. at the Hyde County Government Center, 30 Oyster Creek Road, Swan Quarter. The public hearing will be simultaneously broadcast via telecommunications equipment to the Ocracoke Community Center, 999 Irvin Garrish Highway, Ocracoke. The public may speak at either location.
Those unable to attend the public hearing may submit written comments by mail to NCDCM, 400 Commerce Avenue, Morehead City, N.C. 28557.
The commission is accepting comments on proposed amendments to 15A NCAC 07H .0304 and the associated fiscal analysis to reflect the five-year update of the state's oceanfront erosion rates. Erosion rates are used to establish construction setbacks for development within the Ocean Erodible Area – Areas of Environmental Concern. The proposed rule amendments can be found at https://deq.nc.gov/documents/erosion-rate-updateunvegetated-beach-designations-surf-city-n-topsail-beach.