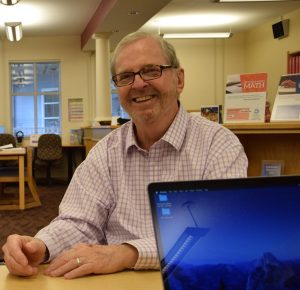 A new scholarship fund will help students who graduate from College of The Albemarle and who transfer to a four-year college or university. The R. Wayne Gray Memorial Scholarship Fund has been established in honor of R. Wayne Gray, a well-known Wanchese native, poet, historian, restaurateur, and educator, by his wife, Nancy, and their three children, Keil Samson, Rheana Watts, and Beach Gray. The fund will assist Dare County residents who graduate from College of The Albemarle and who plan to continue their educations at a four-year college or university.
R. Wayne Gray ("Mr. Gray" to his many students) taught English at College of The Albemarle (COA) from 2008 to 2018. It was his third career, after first teaching at Dare County schools and then owning and operating Queen Anne's Revenge restaurant in Wanchese. While at COA, Gray led the International Club and the Literary Club, guiding his students to publish two collections of locally researched articles on Outer Banks history. Mr. Gray also helped several students continue their education after COA, which led to transfers and four-year degrees from Yale, Mount Holyoke, and other colleges and universities.
The first scholarships will be awarded from the fund in 2022. Anyone can make a donation to this fund by going to https://obcf.org/r-wayne-gray-scholarship-fund/.
"We are thrilled to be able to offer a scholarship opportunity for students who are graduates of College of The Albemarle and who want to pursue a four-year degree," said Interim Executive Director Bob Muller. "We see this as an important step forward in assisting students who otherwise might struggle to find funding in their third and fourth years of college, and we couldn't be more grateful to the Grays for their passion for education, forward thinking, and generosity."
The First Annual R. Wayne Gray Memorial Scholarship Fried Shrimp Dinner will take place on Friday, August 13, from 4 to 7 pm, at Bethany United Methodist Church, 101 Old Wharf Rd, Wanchese. The drive-through dinner will feature plenty of fried shrimp and locally sourced menu items reminiscent of Queen Anne's Revenge, including Posh Squash, red potatoes, and zucchini muffins. Proceeds from the event will benefit the new scholarship fund.
The new R. Wayne Gray Memorial Scholarship Fund is one of more than 200 funds managed by the Outer Banks Community Foundation. Anyone may contribute to any established fund by simply going to obcf.org/donate and selecting a fund from a drop-down list, or by including a fund name with a check or other type of donation. Funds can be established with as little as a $1,000 initial investment. The Community Foundation accepts a variety of assets, including gifts from IRAs, beneficiary designations, property, stock, and more. If you are interested in learning about how funds might help you honor a loved one, or create your own legacy, call the Community Foundation at 252-261-8839.
The Outer Banks Community Foundation is a 501(c)3 nonprofit charitable organization that connects people who care with causes that matter. Based in a historic flat top cottage in Southern Shores, the Community Foundation manages more than $24 million across more than 200 charitable funds for individuals and agencies, awards grants to local nonprofits, administers 58 scholarship programs, and provides tailored services to help donors pursue their charitable interests. Since its inception in 1982, the Community Foundation has awarded more than $11 million in grants and scholarships to local nonprofits and students.