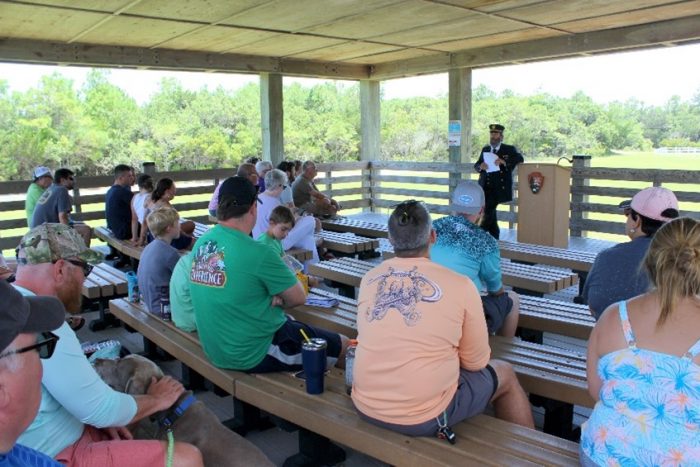 Everyone knows about lighthouses; what they do and the people who run them. They know about the important job the keepers do: hauling the oil cans up the stairs, lighting the wicks and cleaning the prisms and greenhouse glass. Warning ships at night where the land was and to steer clear.
But most of the public has never heard of the group of men who actually went out in storms to save the shipwreck victims when the inevitable wrecks occurred. There may have been as many as 6,000 wrecks right here in the Graveyard of the Atlantic. These were the men of the United States Life-Saving Service (1871-1915). Each station had eight lifesavers, called Surfmen, and one officer in charge, also called the Keeper. During their time, they were "the greatest heroes of the American coast, routinely risking their lives in the grand maritime rescues," said author Ralph Shanks. Now they are "America's Forgotten Heroes." In 1915, their name was changed to United States Coast Guard.
The Keeper of the Cape Hatteras lighthouse on a cold, stormy December night of 1884 spent the night warm and secure by the fires in his house. His two assistant keepers slept comfortably with their families in their adjacent two-story duplex. Not so for the crew of the Cape Hatteras Life-Saving Service Station just a stone's throw away. They would spend days in that terrible storm.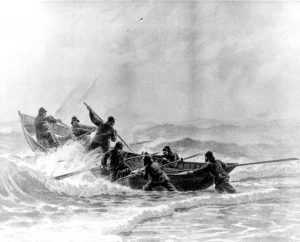 What was about to unfold would be one of the greatest, most daring, most dramatic, and most improbable shipwreck rescues of all time.
It would include four different coastal North Carolina Life-Saving stations. It would involve the iconic terms of "Cape Hatteras," "Outer Banks," "Storm Warriors" and the heroes of the day, Keeper Bejamin Dailey and 'Old Salt' Keeper Patrick Etheridge.  It would also produce two of the best-known maritime mottos of all time – one frequently still used today by the United States Coast Guard. One might say it was a Dailey affair!
James D. "Keeper James" Charlet, a Hatteras Island resident, will highlight that incredible story at the Cape Hatteras Lighthouse on Wednesday, August 9, 2023, at 1:30 pm. He will be using some excerpts from Chapter 11 of his best-selling book Shipwrecks of the Outer Banks: Dramatic Rescues and Fantastic Wrecks in the Graveyard of the Atlantic, Globe Pequot Press. He will be available after the presentation to sign books.
Keeper James Presentations TM is a series of live programs presented by local historians, historical interpreters and performers Keeper James Charlet and Miz Linda Molloy. Each program about the U.S. Life-Saving Service consists of appetizers of true, exciting, highly dramatic Outer Banks stories of 'America's Forgotten Heroes.' For more information, see www.KeeperJames.com/programs.