The U.S. Coast Guard recently released the following "Thank You" to the Outer Banks community from its commander for the Fifth Coast Guard District, Rear Admiral Laura M. Dickey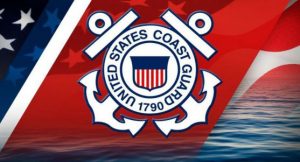 .
For more than 150 years, the Coast Guard has stood ready to rescue those in peril along the North Carolina coast. Recently, the Outer Banks community came to the rescue of several Coast Guard families following a devastating fire in a housing complex in Buxton. This tragedy claimed the lives of a deployed service member's spouse and two children, as well as a local civilian, and displaced three other Coast Guard families.
As we continue to mourn, I want to extend my sincere gratitude for the overwhelming support provided by everyone in the Outer Banks area including all of the first responders from Buxton, Hatteras, Frisco, Avon, Kill Devil Hills, Dare County, and especially the neighbors, friends, families, and even complete strangers who stood by our side when our Coast Guard families needed it most.
There is a special relationship between the Coast Guard and the Outer Banks communities we serve, and I will remain eternally grateful for the care and generosity you all showed us during this extremely difficult time. 
Laura M. Dickey
Rear Admiral, U.S. Coast Guard
Commander, Fifth Coast Guard District