Clear Winter Nights in February is a Very Sirius Business!
The brightest star in the night skies is Sirius. With a visual magnitude of -1.4, Sirius is often mistaken for Venus. Coming into February, it's real easy to distinguish the two. Sirius is the brightest object in the SE skies in the evening, while Venus is the brightest object in the SE skies in the morning! Sirius is a bit further away than Venus. The latter is about 128 million miles away from us, while the former is 8.6 light years away (that's about 51 trillion miles!)
Sirius is also known as the "Dog Star" because it appears to follow the constellation, Orion the Hunter. That relationship is a bit of an optical illusion, since most of the stars in Orion are about 700 light years away.
If you form a line between Sirius and Betelgeuse, (the red giant star in the upper left of Orion), and follow it about half the distance between the two beyond Betelgeuse, you end up very close to the Crab Nebula, Messier 1.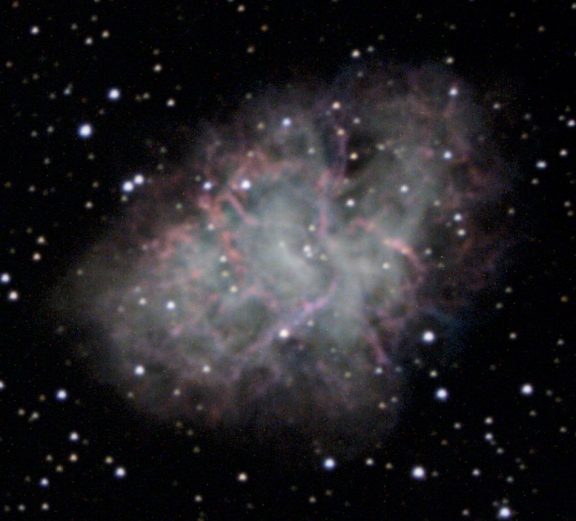 The Crab Nebula is about 6,000 light years away and has a visual magnitude of +8.7 (so you're going to need a telescope or some very powerful binoculars to view it.) It was created by the explosion of a supernova. About 6,000 years later on July 4, 1054, Chinese astronomers observed that explosion! The Anasazi Indians in Arizona and New Mexico also studied the event and recorded it in their petroglyphs.
M1 was first discovered by John Bevis in 1731. Charles Messier ran across it in 1756 when he was looking for Halley's Comet. When he realized it was stationary, (and therefore not a comet), he started his famous list of comet-like objects. M1 was dubbed the "Crab Nebula" by Lord Rosse in 1758. I don't think Rosse was a fisherman.
On the other side of February's night skies you can find a beautiful pair of galaxies M81 and M82. This is M81: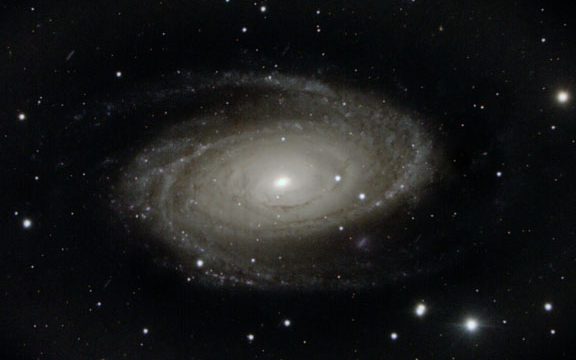 And this is M82:
The pair of galaxies can be found above Dubhe, (the brightest star in the cup of the Big Dipper.) M81 has a magnitude of +6.8 and M82's is +8. Both are good targets for small telescopes. You can probably see M81 with a decent pair of binoculars. M82 will prove more of a challenge.
What to look for in February 2019.
Jupiter rises in the east at 3:29 a.m. Venus will follow at 4:04 a.m. and Saturn will rise at 5:25 a.m.
Uranus, Mars and Neptune will all be in the south-western evening skies throughout February. Of course, Mars is the only one visible to the naked eye. Mercury will start showing up in the evening skies about the 7th. Look for it right behind the setting sun. Remember, Mercury is really close to the sun!
The Alpha Centaurid meteor shower will peak on February 8 at 5:00 a.m. It's not a major event, with peak shooting star numbers of six per hour. Look directly south if you want to try seeing this event.
Just so you know, there were many alarmist reports in 2002 claiming Asteoid NT7 would hit the Earth on February 1, 2019 causing major damage. NASA has plotted the asteroid's trajectory and ruled out any impact this year. The next potential collision with NT7 will be in 2060.
Moon Phases:
New Moon is the February 4
1st Quarter is February 12
Full Moon is February 19
Last Quarter is February 26