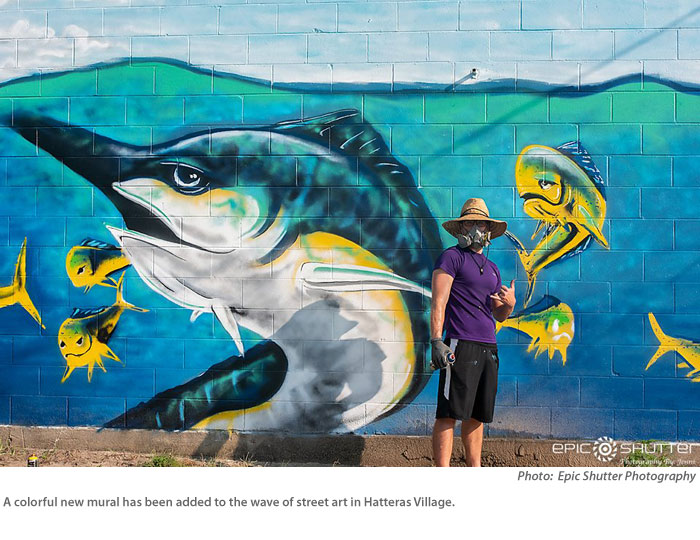 A new mural has been added to the wave of street art that has popped up throughout Hatteras village this past summer, this time landing on the side of the Jeffrey's Seafood building.
The colorful artwork was created by Justin Paxton and a small team of past and current Cape Hatteras Secondary School (CHSS) volunteers, and is the latest work to pay homage to Hatteras village's distinctive identity.
Justin, an art teacher at CHSS, has been painting the town red, (and green, and yellow, and blue), over the course of the spring and summer, through a series of murals that have been added at various landmarks around Hatteras village. Eye-catching and coastal scenes now line the sides of Nedo, the Village Market Red & White, Balance's Garage, and the veggie truck outside of Lee Robinson, and this new addition certainly ties in with the bright new scene.
The subject – a huge marlin flanked by a few yellow and green dolphin – is actually a tribute to an original mural that used to be at the site.
"I approached [the owners] at Jeffrey's Seafood, and asked if we could do it, and they told me about an old mural that used to be there, and which was painted by their uncle a long time ago," said Justin. "I wanted to keep the theme the same, which was a boat catching a marlin, but I wanted to revamp it and do a half water / half sky view."
"They really liked the idea – it was still kind of me, and still paying homage to the old mural," he added. "So I showed them a sketch, and we went from there."
The painting process itself took six days to complete with help, but there were a number of delays due to running out of paint, and multiple days of rain. However, the mural wrapped up by the end of summer, and has already garnered attention from locals and visitors alike.
And although school is back in session as of August 27, Justin's colorful streak in Hatteras village isn't done yet. "Scratchmade Snackery is coming up next," he said. "They confirmed their site – their little Volkswagen bus – and are getting ready to order the paint."
For more information on Justin's many Hatteras murals, see http://islandfreepress.org/2018Archives/07.09.2018-LocalTeacherBringingStreetArttotheHatterasVillageSceneWITHSLIDESHOW.html