Bringing Beach Safety Info to Kids – How a Local Author / Artist Team Tackled a Tricky Subject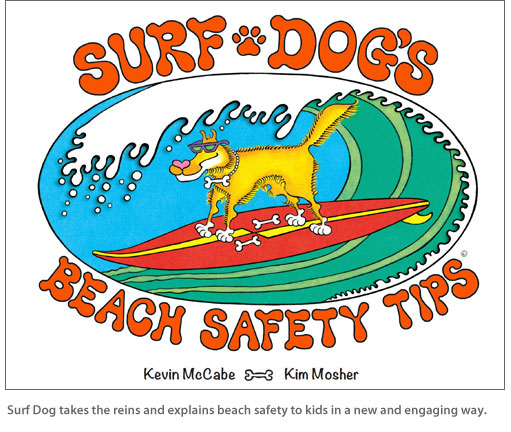 As a surfer for roughly five decades, Kevin McCabe has seen a lot of missteps when it comes to beach safety.
The author and his wife, famed local artist Kim Mosher, can't count how many times he has had to paddle out to bring someone ashore due to a rip current or other hazardous conditions – a situation that naturally happens when you spend the majority of your life on the beach.
"I've been surfing for more than 50 years, and have seen a lot of bad things happen," says McCabe. "And then one day, I had an idea to help get the word out about beach safety, but in a different way."
The husband and wife team have paired up on creating stunning books before. With McCabe tackling the writing, and Mosher creating the dazzling illustrations, their books such as "My Rainy Day Cat" and "25 Secrets Revealed: A Culinary Tour" have become popular with island locals and visitors alike.
This time, the two decided to focus on a lengthy subject – beach safety – by sharing valuable information in a way that's informative, humorous, and keeps the reader engaged throughout. The challenge, naturally, was how to tackle a detailed and not-always interesting topic that would keep children, (and their parents), engrossed from start to finish?
Meet "Surf Dog," the star of their brand new book, "Surf Dog's Beach Safety Tips ."
In the book, which was released in late August, Surf Dog takes readers through a series of chapters on beach safety that range from rip currents and boogie boards, to hot sand and sunglasses. And he does it in a casual and engaging voice that will keep readers turning the page, with colorful pictures by Mosher sprinkled in throughout the book.
"Surf Dog is extremely confident, somewhat authoritative, and he might even be a little demanding, but he has a real good sense of humor, and he's fun to be around," says McCabe. "It's who you'd want to hang around with if you were on the beach. He's the Yogi Bear of the ocean."
McCabe started outlining the topics several years ago, after a wave of drownings and rip currents were reported throughout the Cape Hatteras National Seashore. Once the topics, or "chapters," were covered, it was time to find a character who could congenially pass the information along to readers of all ages.
Kim Mosher has done several variations of the "surf dog" in the past, starting in the early 2000s. While manning a booth at local art shows, she would notice a number of visitors strolling around with their dogs, and would sketch the furry companions in her spare time. Through these drawings, (and with the addition of a surfboard), Surf Dog began to take shape
"I love humor, and I love material like this, so once Surf Dog materialized, I would read each chapter and what Kevin was trying to convey," says Mosher. "Kevin's topics are serious, but we wanted the story and the art to be fun so the kids would be engaged. We had Surf Dog on t-shirts last year, so between that and the new book this year, kids see him and start laughing… and I love to make people laugh!"
For fine tuning the topics, McCabe reached out to doctors, other locals, and his own observations to cover every aspect of beach safety, which includes little things like swimmer's ear, which aren't always mentioned in generalized beach safety material. "One thing that [stood out] in conversations with doctors was swimmer's ear," says McCabe. "It's a common problem, and if it gets infected, it could ruin a vacation."
Rip current safety was covered in-depth as well, with a colorful diagram that is not only inherently beautiful to look at, but which explains how to get out of a rip current once you are caught. "The main thing is not to panic," says McCabe, "And with all the drownings and rescues that have happened this year and last year, it's the perfect time to get the word out in a different way"
While the chapters were finalized, Mosher spent months creating the intricate illustrations that would help bring Surf Dog to life. Starting in January, Mosher spent eight months in earnest working on the book's eventual illustrations. "I tried to keep it really happy and nature oriented, and just show a happy guy, on a happy beach," says Mosher. "I enjoy drawing – it's what I do – but it was an intense project on top of the busy season."
But the author and illustrator team inevitably completed Surf Dog's story, printing it the Wednesday before Labor Day Weekend. Roughly 10,000 copies have been printed, and the book is already making waves with other organizations on the island who want to help spread the word about staying safe on the beach.
"A lot of realty companies want to use it as a tool, and want to get the story in their homes," says McCabe. "It's a great way for the word to get out, and to help realty companies share information with their visitors."
McCabe and Mosher have also talked to teachers, child psychologists, and other professionals who give the story and Surf Dog two thumbs up. "One woman, who is a teacher, told me that 'the kids aren't going to listen to me, and they are not going to listen to you, but they will certainly listen to Surf Dog,'" says McCabe.
There may even be an upcoming initiative to get Surf Dog into North Carolina libraries and schools, to help spread the word even further. After all, explaining safety tips to kids isn't always the most effective or entertaining of tasks for parents or teachers, but when Surf Dog takes the reins, the message becomes a lot clearer, and a lot more fun to read.
"We wanted to keep the humor, and keep it funny," says McCabe. "Surf Dog is just the way he is, but he also emphasizes 'Hey, listen – this is important!'"
"We're excited to educate kids and adults at the same time, and it's definitely a project that we wanted to do," says McCabe. "And [considering] the importance of beach safety, especially with rip currents, we're just trying to get the word out in any new way we can."