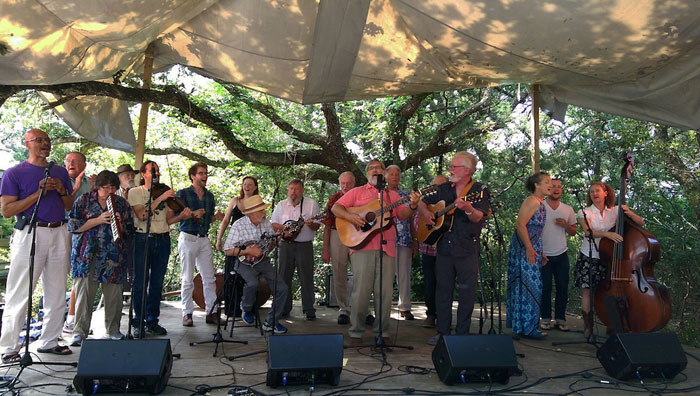 The Ocrafolk Music and Storytelling Festival is returning to Ocracoke village for its 22nd year on the grounds of the Berkley Manor from June 3 to June 5.
Featuring three days full of performances and events, kids' activities, a square dance, workshops, food, and artworks, the Ocrafolk Festival is a favorite annual celebration for music lovers and Outer Banks fans of all tastes.
2022 performers for this year's festival include Jonathan Byrd, Josh Goforth, Highland Reverie, Muriel Anderson, Lipbone Redding, Aaron Burdett, Bill and the Belles, Shana Tucker, Liam Purcell and Cane Mill Road, Donald Davis, Martin Garrish, Molasses Creek, Coyote, Wyldwood, Aaron Caswell, mahaloJazz, Bob and Jeanne Zentz, Madeline Holly-Sales, Jim Roberts, Ana Luisa Chavez, OBX Traditional Jazz Allstars, Paperhand Puppets, Jef the Mime, Ballet Folklorico de Ocracoke, Rodney Kemp, Keeper James Charlet, various artisans, and much more. For more details on the performers and the event schedule, visit www.ocracokealive.org/performers.html.
Early bird tickets are currently on sale until May 28 and are $75 for the all-weekend event. Individual day tickets are also available, for a special May price of $45. After May 28, ticket prices increase to $75 and $50, respectively.
Ocrafolk Festival is an outdoor event, except for performances inside the Berkley Barn. Organizers state that they will be monitoring CDC guidelines, and they encourage attendees to be fully vaccinated, and to consider wearing masks in audience areas.
The festival is produced by Ocracoke Alive, a community non-profit committed to enriching the Ocracoke Island community by encouraging and sponsoring cultural, artistic, educational, and environmental activities. Proceeds from the festival support critical student and community programs throughout the island.
For more information and to purchase tickets, visit https://www.ocracokealive.org/general-info-and-tickets.html.