2023 marks the 100th anniversary of Billy Mitchell's historic bombings off of Hatteras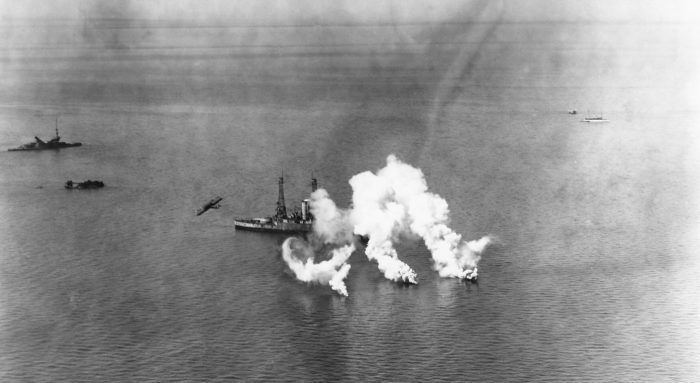 A search of "This day in history September 5th" doesn't reveal much in the way of earth-shattering achievements that day, only that the space probe Voyager 1 launched in 1977, Jack Kerouac's masterpiece "On The Road" hit bookstores in 1958, and we lost Nobel Prize laureate Mother Teresa in 1992.
But hold on a minute – what about General Billy Mitchell's successful bombing experiments at Hatteras on Sept. 5, 1923? Is that not a seminal milestone in aviation history?
Maybe or maybe not, depending on who you talk to.
If it's Hatteras folk, they'll tell you straight up that it's shameful that one of the most famous aviators to ever don a pair of flight goggles, and who was regarded as the Father of the United States Air Force, has been grossly overlooked.
Naysayers, on the other hand, point out that Brigadier General William Lendrum "Billy" Mitchell was a conceited and condescending egotist that remains, to this day, the most controversial, most polarizing airman this country ever produced.
No matter which camp you fall in, everyone agrees that Mitchell proved once and for all the superiority of air power, and established the birth of strategic bombing when he sank two WWI-era battleships, the Virginia and the New Jersey, in revolutionary tests at Hatteras 100 years ago.
Thanks to seasoned Hatteras historians, a lot of memories of Mitchell remain as fresh today as they were way back when, and there are quite a few stories, resources, and relics around.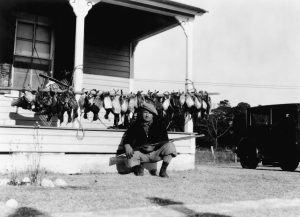 It's a fact that many movers and shakers in American industry enjoyed the recreational pursuits Hatteras offered in the first quarter of the 20th century. Long before golf became an elitist pursuit, it was sport fishing and sport hunting that brought powerful people to Hatteras like John and Henry Phipps and John and Andrew Carnegie, founders of what is now US Steel; Bert Lyon, patent holder on chrome and stainless steel; and Andrew and Richard Mellon, financiers for the steel industry.
The legacies of these folks survive on the island today, and General Billy Mitchell built his own legacy right there with them.
Mitchell loved fishing. He loved waterfowl hunting, too, and Hatteras never failed to produce when he broke away from battles with Congress and relentless speeches, articles, and appearances advocating for air power. World War I was behind us, and the stress of being the lone eagle crying in the sky against entrenched Naval and Army power brokers took a toll.
Fortunately, Washington D.C. and Hampton Roads were close enough that he and his tackle box could make a quick flight here in one of his personal De Havilland DH 4's, the Osprey or the Seagull. The flat expanse of hard-packed sea beach which is now the Durant Station, SummerPlace, and Atlantic View area made for a convenient airstrip, or aerodrome as Mitchell and his contemporaries called it.
No family was more capable of accommodating Mitchell than the Austins. Front and center back in 1923 was Andrew Shanklin "Shank" Austin, who in 1923 on the 50th anniversary of Mitchell's tests, told a group of Cape Hatteras High School journalism students that included his son, Gary, writing for their in-school publication, Sea Chest, that he was "the youngest person ever employed by the US Army."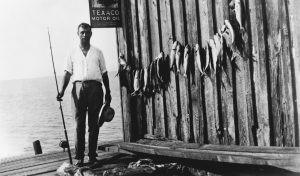 Shank had a 'Banker shore pony and beach cart and was adamant that no one else would handle the reins but him.' General Mitchell took a liking to the confident young'un and put him on the Army payroll at 50 cents a day, dragging a homemade beach rake and hauling supplies to help Mitchell and his men fashion an airstrip, and in the process, making an invaluable contribution to a historic event – at age 7, no less.
Maintaining the strip took a lot of effort, as Hatteras winds and rains uncovered ancient tree stumps and created potholes, which had to be dug out by hand and filled with sand hauled from hills nearby. By staying on top of it during the summer of 1923, the end result was a flat, shell-laden surface of hard-packed sand as strong as any resource available.
Fortunately, from Mitchell himself, we know a lot about his time in Hatteras. He was a meticulous note-taker, a skill derived from his training days in the US Army Signal Corps during the Spanish-American War. Many of his on-site Hatteras reports pounded out on a primitive typewriter in his beach shack survive:
"An aerodrome had been prepared on a sand spit six miles west of Cape Hatteras. It was inaccessible for any type of sea craft from the ocean side and could only be approached with great difficulty from the Pamlico Sound side. The water in the Pamlico is very shallow and a barge with a draft of over two feet cannot be brought ashore. The landing of motor transport, tractors, drums of gasoline, and 2,000 pound bombs was a serious problem under the circumstances. All of this material was successfully landed and moved across the sand to the aerodrome. There are no roads suitable for the movement of heavy material."
While Mitchell enjoyed adopted son status at Hatteras, his numerous enemies at a time when Admirals and Generals called the shots, were determined to subvert him at every opportunity. At the 11th hour, just three days before the bombings were to be conducted, a foreboding directive came from the Secretary of the Navy – they had moved the goalposts.
"On Saturday, September first, an order was received from the Chief of Staff directing that an attack be made at ten thousand feet and that at least one attack be made from six thousand feet. The attack at ten thousand feet could only be made with supercharged ships as an ordinary Martin bomber will not attain this altitude with full service load. On the date of the receipt of this order only one supercharged ship was equipped for flights at this altitude. September second was Sunday. September third was Labor Day. The civilian personnel in the shops at Langley Field were available only on September fourth for making the changes required. By working the officer and enlisted personnel from six A.M. until midnight on Sunday and Labor Day, it was possible to get four ships in commission for work at ten thousand feet. The program for the bombing was changed to include attacks at the altitude specified and the personnel flying the supercharged ships made one flight to practice bombing at ten thousand feet."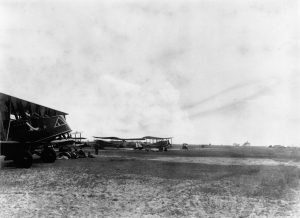 Mitchell and his men pushed late into the evenings, stopping at times to imbibe a bit of bootleg Cape Woods brandy, which helped immensely in figuring out the best way to make lemonade out of lemons and accommodate these scheming last-minute changes designed to thwart him and foul the experiments.
Mitchell, however, had a wild card up his sleeve. He had with him an untested, brand new DeServersky automatic bombsite and he could use it on the New Jersey and the Virginia. It was a high-risk roll of the dice, with strong odds of coming up snake eyes.
Morning dawned on September 5th as the rarest of Hatteras days. There was not a breath of wind, an anomaly at Cape Hatteras. It was a welcome respite for the dozens of soldiers assigned to the experiment, who never got used to Hatteras winds pitching their tents end-over-end in the direction of Durants Lifesaving Station, which the surfmen there found amusing. Mutual respect came quickly, with the station open 24/7 for hot coffee, cool cistern water, and bowls of steaming clam chowder, drum stew, and navy bean soup.
Such a windless day was a strategic gift, and the pilots took heart, knowing that the smoke curtain would not be blown away and would hold the targets in perfect frame, optimum conditions all for bringing Admirals and Generals to tears.
Target One was the New Jersey, obsolete but heavily armored, nonetheless. The Navy did Mitchell no favor by making her available; she was a tough, tough broad.
The first pass proved to be a dry run, although the tremendous shock waves from a couple of errant 1,100-pound bombs proved to be invaluable in the development of depth charges and strategic bombing of U-boats in WWII.
Mitchell's pilots quickly made adjustments, and a consistent stream of hits and explosions from the Martin MB2 bombers created heavy damage. The dreadnought had begun to list but remained afloat. She was a hot, smoking mess.
On the final pass, a bombardier scored a perfectly-sited 2,000-pounder from just under two miles up. The ordnance whistled downward at 500 miles per hour, passing through a gaping hole above deck near the stern and detonating against the hull, just below the waterline.
The once-proud New Jersey listed savagely to port, and began blowing gigantic death bubbles. Watching intently from his personal plane, the Osprey, General Mitchell banked to starboard to redirect the attack against the Virginia.
In a nana-nana boo-boo moment, Mitchell waggled the wings of the Osprey side-to-side as he buzzed the San Mihiel, one of the observatory naval destroyers filled with military brass, press, and international dignitaries, infuriating the Secretary of the Navy.
Mitchell's trusty aces, smelling blood in the water, moved in for the kill.
The attack on the Virginia was near perfect. In mere moments she was a pitiful sight, deck pieces projecting dangerously high at great speeds into the air, and too close for comfort for those on the San Mihiel. The scheme by the hierarchy to thwart Mitchell had backfired – bombs dropped from such high altitude and significant speed passed through her decks down two and three levels before exploding, aiding the attackers tremendously.
The observers on the San Mihiel were astounded, with reactions ranging from unbridled elation among those dignitaries on the cutting edge of aviation, to embarrassment and bitter disgust among the brass. The experiment was an unmitigated success.
Retribution was directed at the press, who had always been supportive of Mitchell and his enduring public popularity, and access to wireless communications was initially withheld to all except the New York Times, eventually giving way to exorbitant fees charged to media reps filing their reports
In a chilling exchange with Daniel Bidwell, a nationally known writer at the Hartford Courant, also a leading paper of the day, a handsome young naval attaché from Tokyo, Lieutenant Osami Nagano, offered a blunt and forthright assessment: "I can assure you the Emperor will pay close attention to the successful tests done this day by your honorable General Mitchell."
Accompanying Lt. Nagano was an unconfirmed Japanese newsman in the mold of Dick Tracy, replete with black suit and tie and press pass in his hatband, known only as Katsuda. No record was ever found with any of the Japanese papers of this supposed correspondent.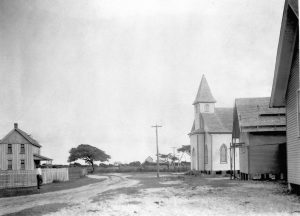 We know today he was an operative with Imperial Japanese Navy intelligence, the Kaigun-shō. As for Lt. Osami Nagano, he became Admiral Osami Nagano who planned the attack on Pearl Harbor.
At Wednesday evening prayer meeting, General Mitchell and his pilots were given the floor at Hatteras Methodist Church to relay the exciting events of the day to a jubilant, standing-room-only crowd. Mitchell was due back in Washington at the first of the week and his wife, Bett, had plans for him in Capitol socialite circles.
With time now of the essence to bid farewell, a barbecue and fish roast with cornbread and tea was planned for midday Friday at Durants Station by the home folks. That would be wonderful, Mitchell said, as he wanted to get a couple days of fishing in anyway.
Sadly, he had made more enemies than allies on Sept 5, 1923, and the resounding success of the tests had ironically given them the opportunity to destroy him. Sept. 5 would be the last of the aerodrome at Hatteras, but not the last of Billy Mitchell.
Author's note: a great local read on General Billy Mitchell and his times at Hatteras is The Lion Killers by Will Schwarzer, available online and at the Hatteras Community Library.
Danny Couch is a contributor to the Island Free Press and has written extensively about the islands since his days at Cape Hatteras School. He is the chairperson of the Friends of the Graveyard of the Atlantic Museum and a director of the First Flight Society. Couch will be giving two presentations on Billy Mitchell at National Aviation Day on Saturday August 19th at Dare County Regional Airport in Manteo.