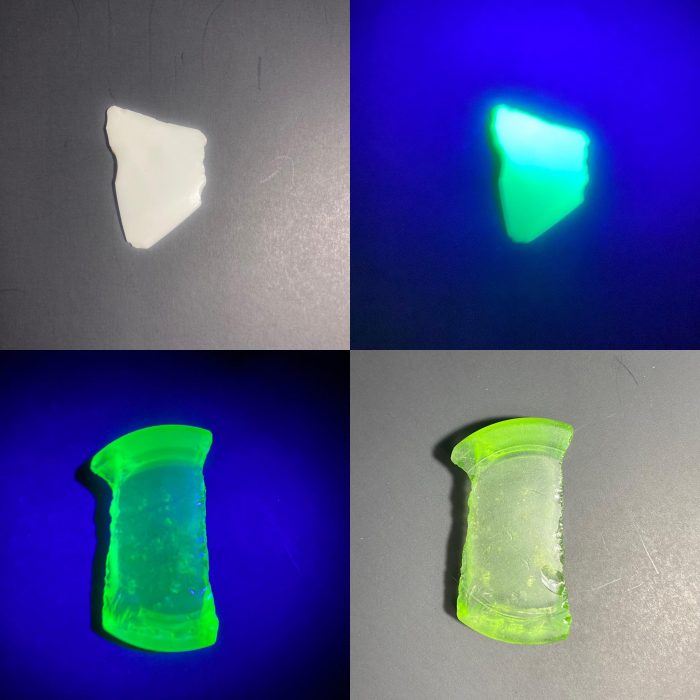 Seaglass hunting is a fascinating hobby that has taught me so much about the history of glassware, how it was made, and what it was used for in the past.
But I've also learned about the history of the area where I have found seaglass, as it correlates to the glassware that was being used during different time periods over the centuries. By simply trying to identify where the beautiful seaglass gems originally came from, I've unexpectedly learned so much about glass, and one of my favorite lessons involve pieces of seaglass that glow.
Glowing seaglass?  Yes, that's right, glowing seaglass!
So, how does it glow? It's because the glass was made with uranium. Obviously, not a harmful amount of uranium, and an oxidized form of it, but nonetheless, the chemical making this specific type of glass glow is uranium.
First discovered on ceramic tiles in the ruins of ancient Rome, and then rediscovered by Martin Klaproth, a German chemist, it was eventually Josef Riedel, an Austrian in the 1830s, who was credited for the producer of uranium glass.
This glowing glassware was manufactured in the United States from the 1880s until the 1930s, and was often referred to as Vaseline glass. A great many of these glowing vessels were made in a color that reminded people of the color of petroleum jelly, and Vaseline was a household name during the height of production, so the name stuck. Although it gives the notion that uranium glass only comes in this pale yellowish-green color, it actually comes in an array of colors. Uranium glass can be bright neon yellow, bright neon green, opaque yellow, opaque green, opaque white, purple, red, orange, black, and even blue.
Companies like Mosser Glass and Fenton Glass are known for their production of radioactive glassware in America. The Cold War made the uranium impossible to obtain, so it eliminated the making of this glowing glassware until the 1990s, when glassmakers began to create with it again.
In my beachcombing adventures, I have had the great fortune of finding a few amazing pieces of glowing seaglass. Most of them are greenish, and the green pieces all came from Puerto Rico with the exception of one textured piece that I found on the Chesapeake Bay, and one smooth, plain piece from the Outer Banks.
However, the Outer Banks has gifted me four reds pieces, one orange piece, and one true yellow piece of uranium seaglass. Most of these I believe came from boat lenses or lanterns, especially the ones that are textured, and I state this based on the number of shipwrecks our coast has seen. I also recently bought a uranium bead that was turned into a necklace from a collector who lives off the coast of Scotland, and combs the beaches there.
Uranium glass is so cool to me that I even kept two pieces that I would consider throwbacks because they are not technically done as far as seaglass is concerned. Seaglass collectors like their pieces to be frosty all over with dull edges, with no real resemblance to a broken, sharp shard of glass. These two pieces are shiny and have very little frost on them, but they glow ever so bright to which I say "We got a glower" and toss it in my keeper jar.
Not sure if you have a glower in your collection? Look for the distinctive color, grab an inexpensive blacklight, and give it a glow. If it lights up, then you have a unique and truly iridescent treasure on your hands.
About the Author: Kristin Hissong is a North Carolina native and UNC Charlotte graduate, an Outer Banks resident of 15 years, and is a dedicated, "professional beachcomber." She has spent more 20,000 hours walking on both our local shores and shorelines around the Eastern Seaboard, and has collected thousands upon thousands of items from the Atlantic Ocean. 
For the past seven years, she has been beachcombing on Hatteras and Ocracoke islands every day, collecting both treasures and trash on her routine expeditions. From typewriters to coffee makers, fishing rods to recliners, if you name it, there's a good chance she has seen it washed up, and has hauled it to back to her collection, or to the closest dumpster.