An emotional day as Ocracoke School reopens, four years after Hurricane Dorian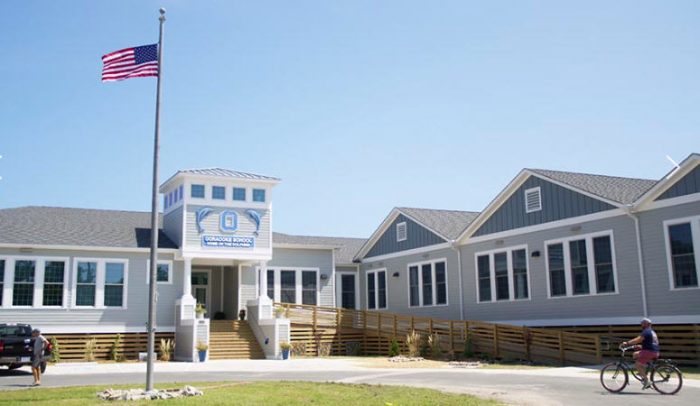 From OuterBanksVoice.com
In an emotional day celebrating the reopening of the Ocracoke School four years after Hurricane Dorian, speakers, sometimes through tears, recalled the spirit of resilience and love of community that defined how residents worked with teachers and students to get to this day.
On Sept. 6, 2019, Hurricane Dorian pushed a seven-foot storm surge through the village, destroying almost the entire school and much of the village.
School Principal Leslie Cole recalled what it was like in the immediate aftermath of the storm. "It has been almost four years since Dorian changed everything…I knew that many places had been flooded, but nobody was sure about the school. And as we rounded the corner and I saw the water lines just below the window, I knew," she said.
What followed was four years of scrambling to keep students in classes—an effort that included finding temporary classrooms for middle and high school students as well as the challenge of remote learning during COVID.
"I'm going to take this time to publicly recognize—and I'm going to cry—the resilience and the dedication of our teachers, our staff and our students," said Angela Todd, Chair of the Hyde County Board of Education, pointing out that many of the teachers themselves did not have a home following the hurricane.
Repeatedly, speakers thanked current Hyde County Superintendent of Schools Melanie Shaver as well as former Superintendent Steve Basnight, who was in that job when Dorian struck. Basnight is now the Superintendent of Dare County Schools.
Speakers also thanked architect Ben Cahoon, who is also the mayor of Nags Head, for the work he did designing the new building and taking into consideration the concerns of village residents.
But Cole was the one person that every speaker pointed to in keeping teachers, students, parents, and the community involved and aware of what was happening.
Hyde County Teacher of the Year, Katie O'Neal, Exceptional Education Teacher at the school, said, "I would like to start out by thanking our principal Leslie Cole, and our assistant principal Miss Jeannie Owens for their tireless efforts to get the building ready."
Cole, in offering kudos to everyone who made the day possible, also turned to the people she felt were the most important reason for bringing the school back to life.
"And students," she said. "I don't think you really understand how much you helped us through these past few years…You gave us a reason to focus and to concentrate on the prize ahead and provided us with happiness and joy when we had so much uncertainty around us…We knew that you needed us, and we didn't want to let you down."
She also singled out the folks who work at the school. "My last and greatest thank you goes to the teachers and staff of Ocracoke School. You just see me right now, but I can assure you I have thirty plus people behind me every day and making Ocracoke School what it is," she said.