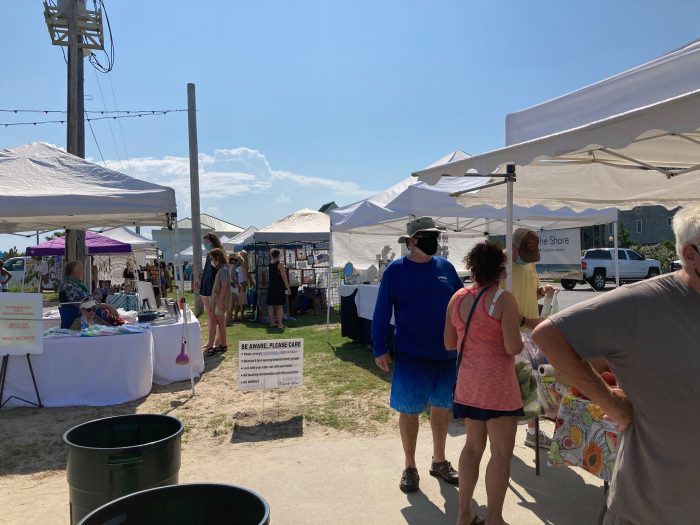 Hatteras Islanders who prefer to skip the crowds and the stressful scene of a traditional Black Friday will have an opportunity to enjoy an island-style shopping spree this year, thanks to several planned markets that will be showcasing more than 60 local artists and vendors.
The Avon Farmers Market, which is a favorite weekly event in the summer season, recently announced that it will be hosting its first-ever Black Friday market at its regular Avon locale, next to Pangea Tavern and the Koru Beach Club.
So far, the one-day-only market has attracted roughly 30 vendors, (including familiar faces from the seasonal summertime market), and new vendors are welcome to apply for a spot via the market's Facebook page, or by email at coastalfarmers@gmail.com.
"In these challenging times, it's really important to support our local artists," said market organizer Susan Patzer Aliff. "That's why we decided to do a Black Friday market. We've never done one before, but right now, everyone has to chip in and do what they can for other people."
"When you buy local, 90% of that money stays in the community," she added. "[Plus], it's a chance for everyone to come out after Thanksgiving and get their Christmas shopping done."
The Avon market will feature a number of local and seasonal goodies, including artworks, jewelry, pottery, Outer Banks spices, wine, fudge, tea and coffee, and much more. "There will be a lot of our vendors [from the summer months] coming back," said Patzer Aliff.
The summertime social distancing guidelines will also still apply, and attendees are advised to wear masks, wait six feet apart, and wash or sanitize their hands before coming to the market.
The Avon Farmer's Market will be held on Friday, November 27, from 9:00 a.m. until 1:00 p.m., and once shoppers have perused the Avon market goodies, they can make a second stop at the Light House Art Show, which will also be occurring over the Thanksgiving holiday weekend, and which also features roughly 30 local artists and craftsmen.
The Light House Art Show will be held on Friday, November 27, and Saturday, November 28, from 10 a.m. until 3 p.m., at 48933 N.C. Highway 12 in Buxton, (across from the Cape Hatteras Secondary School.) More details can be found online at the event's social media page at https://www.facebook.com/events/356325578981792.
For more information on the Avon Farmer's Market, visit https://www.facebook.com/Avon-NC-Farmers-Market-114250639939534.
"This is a stress-free way to enjoy Black Friday shopping, and put money back into the community," said Patzer Aliff. "Come on out and have some fun!"