Cape Hatteras School's revitalized Theater Program will debut its first new musical in four years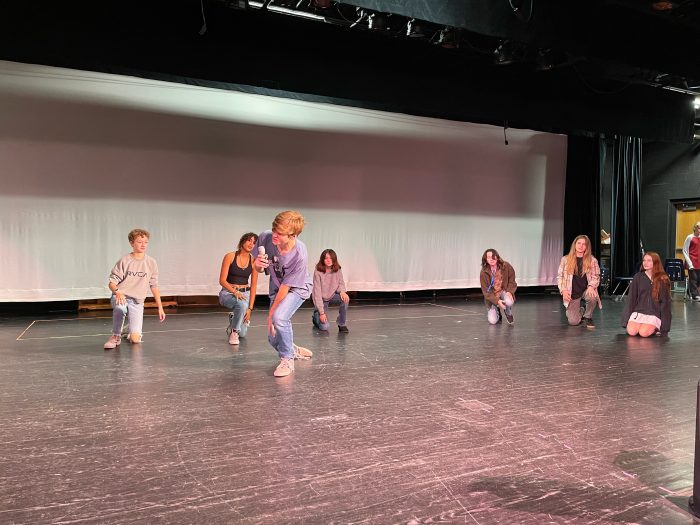 Cape Hatteras Secondary School's Drama Club is about to debut its first new musical in four years, and the upcoming show has had a wave of all-hands-on-deck support from the school, as well as the community.
Elf The Musical Jr. is celebrating its opening night on December 9, and after months of hard work, the many students and supporters involved in the project couldn't be happier about bringing a new show to the stage after a years-long hiatus.
"This is the first musical since 2018, and we are all so thrilled this is happening," said Co-Director and volunteer with the Cape Hatteras Secondary School (CHSS) Drama Club, Blake Taft. "It takes a village to put on the show, and the most exciting part is that, as we look towards the future, the student interest is there, and the community support is absolutely phenomenal… That's a wonderful thing to have as we're [restarting] our theater program."
This new endeavor is a homecoming for Taft, who is an alumnus of CHSS, and who has deep-rooted ties to the school, and to theater. "I knew I wanted to do theater since I was a freshman in high school, so me and a bunch of my friends got together and begged one of the English teachers to sponsor the Drama Club."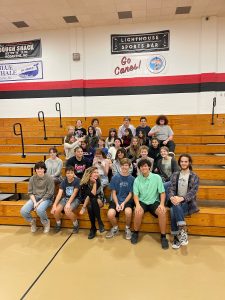 Taft's teacher Braxton Hall, (who passed away in June 2022), would spark discussions about Broadway shows, and the excitement of launching and performing shows at CHSS propelled Taft to study theater at George Mason University after graduation.
"I thought I was the big guy on campus who knew everything about theater," said Taft. "Then I got there, and realized very quickly that I was not."
Taft persevered and gained an in-depth education on all the intricate aspects of theater, and by the time he returned home to Hatteras Island as co-owner and manager of The Froggy Dog Restaurant, he wanted to use his education to rebuild and rejuvenate CHSS' theater program like never before.
"My biggest goal is that anyone who leaves this production and wants to do theater in college, as a major or as an [extracurricular activity], doesn't have an experience of 'Woah, I know nothing.'
He reached out to principal Beth Rooks in 2019, offering to volunteer or hold some workshops, but plans were put on hold indefinitely just as they were starting to formulate.
Hurricane Dorian in 2019 caused severe damage to the school, forcing it to operate in survival mode, and then the Coronavirus pandemic hit in 2020 and 2021, which put a lengthy pause on extracurricular activities and new initiatives.
But 2022 ushered in a new beginning for the CHSS Drama Club, and the school's corresponding theater program.
"I was at the school in March of 2022 for the Career Fair, and it just kind of launched into a conversation [about] taking over the theater program," said Taft. He formed a partnership with English teacher Jordan Tomberlin, and the idea grew from there. "Jordan has been my other half and co-director, and we work together in a wonderful way."
Though CHSS had certainly done shows before, which included a couple of smaller plays in the past several years, the new theater program was more or less built from scratch.
"We structured this program much like collegiate and professional programs are structured," said Taft, "and this is going to be a transformative year. It will be the first time we have done two musicals in a year, [with a spring musical planned for 2023], and going forward, we'll do a fall play and a spring musical, which is a pretty standard school theater program setup."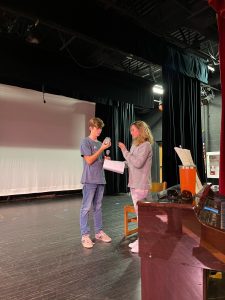 Auditions were held in early October for the revitalized program's inaugural show, and the enthusiasm and turnout were both outstanding.
"We have 20 students in the show, both middle school and high school students, 11-12 students backstage doing technical work, and another seven students working in theater arts classes," said Taft. "So nearly 40 students are working on the show."
Other classes and teachers are pitching in with the production as well. Teacher Keith Durham and his carpentry class are helping to build the sets. Sean McCroskey, director of the school's band, is assisting with music, and art teacher Justin Paxton and his students are assisting with the set design. Volunteers have also been a huge help, like Michelle Rieder, who is designing all the costumes.
"It's a whole-school event, and everyone is trying to pitch in when they can," said Taft. "Only one of these kids was in the last musical, [Peter Pan in 2018], so most have never been in a show ever, and this is a new experience for them."
"How they have come together is inspiring. All of the kids are so talented, and the community is going to be wowed."
Once the show was announced, and after the initial auditions, the real work began.
The volunteers, teachers, and students have been working tirelessly for two months, with 4-5 rehearsals per week, for 2-3 hours at a time.
"We have been nose-to-the-grindstone," said Taft. "They have been working so hard, and driving their parents crazy by signing all the songs at home."
But despite the tough schedule and the impromptu song-bursting, the enthusiasm hasn't waned, and the community is in for a spirit-lifting treat when Elf The Musical Jr. makes its debut.
"When I picked up the show, I had never heard of it myself, but it really is a phenomenal musical," said Taft. "It's a great storyline, and the music is quintessential Broadway. It has everything you would want to see from a holiday spectacular… And the melodies, even if you don't know the songs, you'll think that you do."
The roughly hour-long musical will feature a beautiful set, catchy songs, dazzling costumes, and elaborate choreography – complete with a holiday kick line.
"When you see the show, you'll see the hard work for sure," said Taft.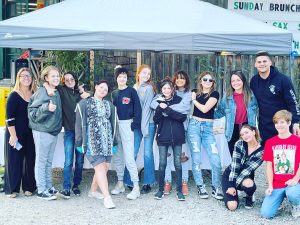 There are three performances planned – a 7:00 p.m. show on December 9th and 10th, and a 2:00 p.m. matinee on December 11th – and everyone involved is looking forward to a huge crowd.
And while the upcoming Elf The Musical Jr. will be the first opportunity for the island community to see the fruits of the Drama Club's labors, it certainly won't be the last.
Big plans are in the works for the CHSS Drama Club and the theater program, which includes workshops, a potential new theater space, and partnerships with renowned theater groups like the Hurrah Players of Norfolk, Virginia.
"We're building a program, and we're figuring it out as we go, but we have been really blessed," said Taft. "We're grateful for Beth Rooks, our administration, and the community – they have given us so much support, and so much opportunity for creativity and growth."
In the meantime, the CHSS Drama Club – and the many students, teachers, and volunteers who are working to create a stellar opening night – are hoping that the island community comes out to their inaugural performance.
"A lot of people have come up to me and said, 'Hey, I don't have kids, can I still come?' and the answer is 'Of course!'" said Taft. "Our students' goal is to sell out a week before the show. If we could sell out, that would be incredible."
Tickets are currently for sale by cast members, and are also available at the front office of CHSS and at The Froggy Dog in Avon.
Tickets are $10 each, and all proceeds will go to support the CHSS Drama Club and the theater program. "Theater is an expensive venture. Each time one of those lights burns out, it's $25, and there are 60 lights on the stage," said Taft.
"This is a community event, and we want the community to come," he added. "Whether you have children in the show, in the school, or no children at all, theater is meant to be experienced with a live audience, and experiencing live theater is an essential cultural event that lifts us all up."
How to catch the show
Tickets are $10 each and are currently for sale by cast members, and are also available at the front office of CHSS and at The Froggy Dog Restaurant in Avon.
Shows will be Friday, December 9 at 7:00 p.m., Saturday, December 10 at 7:00 p.m., and Sunday, December 11 at 2:00 p.m.