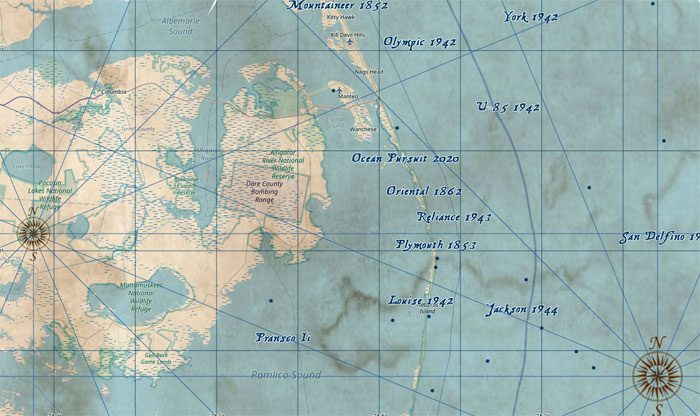 In celebration of Geographic Information System (GIS) Day on Wednesday, November 18, the Dare County Department of Information Technologies GIS Division has developed a new Outer Banks Shipwrecks Map.
This interactive map, which resembles a historic treasure map, gives users the opportunity to explore some of the estimated 3,000 shipwrecks in the Graveyard of the Atlantic, which is situated just off the coast of the Outer Banks. Users can also obtain information about the year each of these vessels sank.
GIS is a scientific framework for gathering, analyzing and visualizing geographic data. Dare County's GIS Division provides a wide variety of digital mapping resources. Some of the new tools that have been developed this year include a Flood Zone Swipe map, as well as the Dare County 150th Anniversary Timeline map.
The Outer Banks Shipwrecks Map that was developed in celebration of GIS Day 2020 can be accessed at https://gis.darecountync.gov/gisday/2020. Additional mapping resources from the Dare County GIS Division can be found at https://gis.darecountync.gov/.