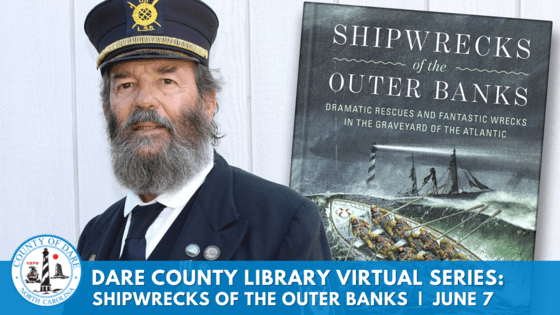 The Dare County Library will host a local history program presented by author James Charlet about his book, "Shipwrecks of the Outer Banks: Dramatic Rescues and Fantastic Wrecks in the Graveyard of the Atlantic," at 12 p.m. on Tuesday, June 7, 2022. The hour-long program—which is the latest in the Dare County Library's Enrichment Series for Adults—will be held virtually via Zoom.
More than 6,000 ships have met their doom in the waters along the North Carolina coast, weaving a rich history of tragedy, drama, and heroics along these picturesque beaches. Men have lost their lives and fortunes, and heroes have been made where the combination of mixing currents, treacherous coastline, and shifting underwater sandbars spells disaster for even the most seasoned sailor. These are the stories of daring rescues, tragic failures, enduring mysteries, buried treasures, and fascinating legend.
This program is free for Dare County residents and property owners ages 18 years and older. Registration is required, and space is limited.
Participants can register to attend a program up until one hour before the presentation begins. Zoom log-in instructions for the program a participant selects will be sent via email. Please call 252-441-4331 for assistance with any technical issues.
For a complete list of programs offered by the Dare County Library and to register to attend, click here.
For more information or assistance, contact the Dare County Library branch in your area at the following numbers or visit www.DareNC.com/Library
Hatteras: 252-986-2385
Manteo: 252-473-2372
Kill Devil Hills: 252-441-4331