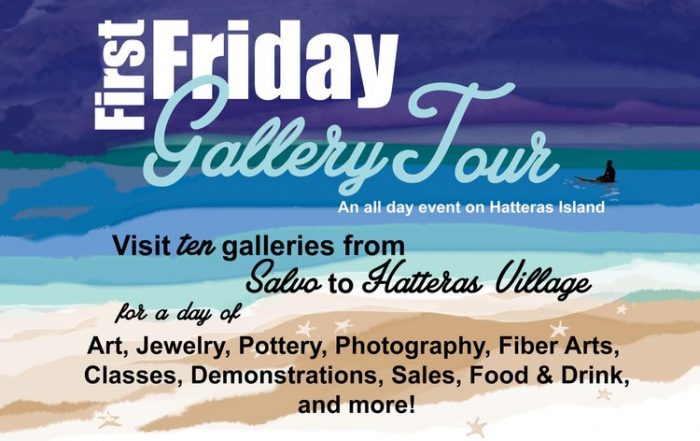 The First Friday Gallery Tour on July 1 will feature 10 island galleries from Salvo to Hatteras village, with many galleries offering sales, demonstrations, food and drinks, and much more.
The all-day affair is wide open to the public, and visitors can drop by any of the participating island galleries to explore what each landmark has to offer at their leisure.
A detailed list of each of the participating galleries is below.
Pea Island Art Gallery, 27766 Hwy 12, Salvo – Stop in and take delight in the vast amount of creativity that this wonderful gallery showcases. Located within a historic replica of the 1874 Chicamacomico Life-Saving Station, this gallery represents over 85 local and regional artists & hand-crafters. Stop by and marvel at the beautiful fine art and handcrafts, and enjoy the fun!
Hours: 10-5 252-987-2879

Kinnakeet Clay Studio & Showroom, 40462 North End Rd, Avon – ARTIST DEMOS
The resident potters of this working pottery studio will be demonstrating wheel-throwing and hand-building pottery methods throughout the day. Enjoy watching Antoinette and Ruth turn a lump of clay into a mug, bowl or other functional item using the potter's wheel.
Hours 10-5 @kinnakeetclay, www.kinnakeetclay.com
252-995-0101

Studio 12, 41008 Hwy 12, Avon – CLASSES : PAINT YOUR OWN POTTERY
-Stop by on Friday (or any day!) and paint your own pottery! A great activity for ALL AGES! Glass fusion & mosaic board projects are also available throughout the week. Call the studio to see which class would be the best fit for you and/or your family! (Also, ask about their weekly yoga class!) *Pottery painting projects will need to be picked up the next day.
Hours 9-3 252-995-7899
Swell Art : Gallery + Gifts, 46854 NC 12, Buxton – TRUNK SHOW, FOOD & DRINK, SALE
-Special Gallery Tour SALE – Mention the gallery tour at checkout and receive 20% off all gallery-owned inventory (everything that's not consigned – which is 90% of their inventory!)
-Stop by and visit with photographer and Pulitzer Prize nominated photojournalist, Don Bowers from 12-4. Be the first to see what he's been working on in 2022.
-Rodanthe artist, Leigh Gardner, will be on site from 2-5 showing & selling her lovely hand-embroidered jewelry, wrist bags, peg dolls and more.
-Wine and cheese and other delights will be served from 3-7
Hours: 11-7 heythere@swellartgallery.com
Empty Nest Studio, 52193 Cardinal St & NC 12, Frisco – MEET THE ARTIST / DEMOS
-Meet the principal artist of this fine jewelry studio, Crystal Blackmon. She will be demonstrating wire wrapping on beach glass at 12:00, 2:00, and 4:00.
-Kaitlynd Blackmon will be onsite, as well, making bronze shark teeth stud earrings during the day. Don't miss out on these illuminating demos.
Hours: 10-5 252-995-5605

Red Drum Pottery & Paintings, 53561 NC 12, Frisco – MEET THE ARTISTS, FREE COFFEE
-Meet owners/artists, Wes & Rhonda, who have been creating art from the media of clay & paint for 27 years. From Rhonda's brilliant red drum design to the relief tiles and ornaments that they are so famous for, there's so much to see in this special art space.
-View Red Drum's new line of jewelry – made in-house by the artists themselves.
-Interested in doing some yoga while you're in town? Wes & Rhonda are both yoga teachers. Visit them at obxcommunityyoga.com to learn more.
-Mention the gallery tour during your visit and enjoy a free fresh hot cup of drip coffee from their onsite coffee shop on Wes & Rhonda.
Hours: 11-4 252-995-3686

The Blue Lagoon, 53688 NC 12, Frisco – MEET THE ARTIST, FOOD & DRINK, SALE
-Meet special local guest artist, Ashley Tuttle of Sundown Clay and check out her fab collection of beautiful polymer clay jewelry.
-Special Gallery Tour SALE – Mention the gallery tour at checkout and receive 10% OFF all pottery purchases!
-Enjoy samples of Blue Lagoon's gourmet chocolate collection, Bertie County peanuts, and other refreshments from 2-5.
Hours: 11-5 252-986-5065

Family Jewels, 56910 NC 12, Hatteras – MEET THE ARTIST, SALE, FOOD & DRINK
-Meet principal artist and owner, Wendy Sisler, and check out her gorgeous hand-made, locally crafted jewelry collection
-Enjoy some mimosas and sweet treats from 11-3
-Sample some yummy treats with Shaena McMahon of Hatteras Saltworks – made with sea salt from the ocean waters along the Hatteras Island shoreline. This is too delicious to miss out on – be sure to stop by between 12 and 4.
-Special SALE – mention the gallery tour and receive 15% off all pearl jewelry at checkout!
Hours: 10-6 336-782-1115
Blue Pelican Gallery, Gifts & Yarn, 57762 NC 12, Hatteras – TRUNK SHOW, SALE
-A special gallery tour pop up shop will be happening onsite. Stop by and meet some of Hatteras' local artists.
-All jewelry by shop owner Jenn Johnson is buy 1 Get 1 free if you mention the gallery tour at checkout!
Hours: 10-6 252-986-2244
SeaWorthy Gallery, 58401 Hwy 12, Hatteras – SALE
-Visit this grand gallery and take in their vast collection of North Carolina pottery, jewelry, gift items and paintings by gallery owner & principal artist, Carole Nunnally.
-Special gallery tour SALES offered throughout the store on select items. Like all offerings on this card, this discount is good for Friday, July 1 only.
Hours: 10-5 252-986-6510