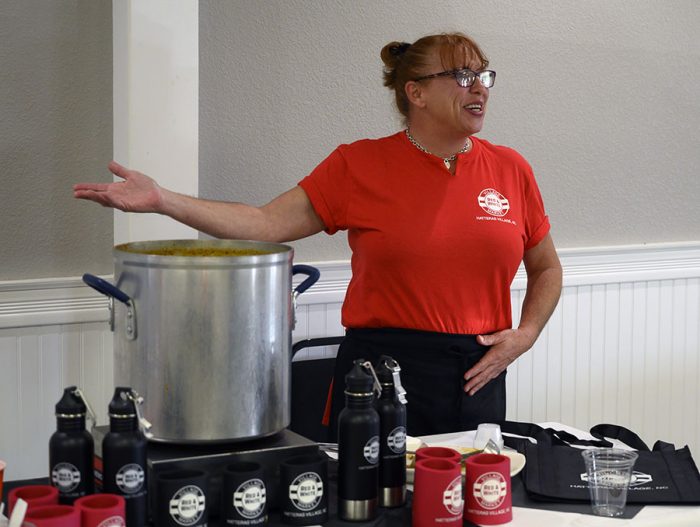 Despite being a stand-alone event this year due to the cancellation of the annual Day at the Docks (DATD) celebration, the Hatteras Island Chowder Cook-off attracted more than 150 tasters – and raised more than $2,200 – during the Saturday afternoon festivities.
The Chowder Cook-off is a favorite event during the annual DATD festival, but after the storm-related cancellation, the Cook-off was rescheduled for Saturday, September 28, as a precursor to the evening's Blessing of the Fleet.
Celebrating its 13th year in 2019, the Hatteras Island Chowder Cook-off attracted a number of local restaurants and businesses who brought their best chowder samples to the delight of the public,  including Breakwater Restaurant, Froggy Dog Restaurant, Hatteras Sol, Village Red and White, Tavern on 12, and Dinky's Restaurant.
The event was free for all of the 153 total attendees, however donations were accepted to help support the Hatteras Island Cancer Foundation (HICF), an all-volunteer non-profit organization that provides support for cancer patients and their families who live on Hatteras Island.
Despite the free admission and the rescheduled date, HICF organizers report that the cook-off raised $1,980 in donations and Chowder Cook-off entry fees, as well as an additional $280 in cookbooks sales.
The winners of the Chowder Cook-off are as follows:
1st Place – Village Red and White
2nd Place – Dinky's
3rd Place – Hatteras Sol
The HICF will take the spotlight once again at two upcoming events that raise funds for the local organization – the 16th Annual HICF 5K and Fun Run on October 12 and the Fish Like a Girl Tournament on October 5
For more information on the Hatteras Island Cancer Foundation, visit https://www.hicf.org/.