Hatteras Island Ocean Center announces its 2023 Summer Programming Schedule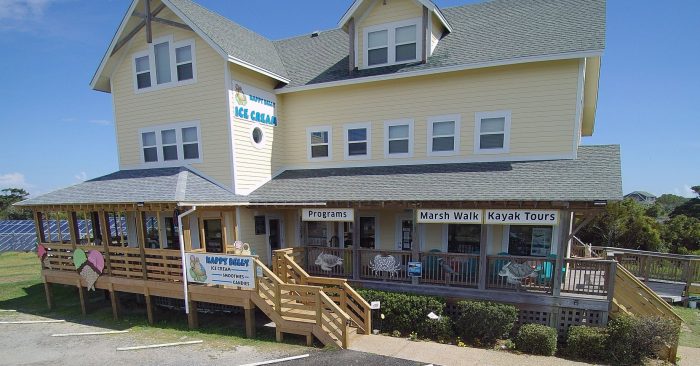 The Hatteras Island Ocean Center recently announced its line-up of summertime programs, which begin on Monday, May 29, 2023.
All programs repeat weekly throughout the summer months, and provide insight into the landscape and natural environment of Hatteras village and miles beyond.
This is the first year that the Hatteras Island Ocean Center is operating through a partnership with the Hatteras Village Civic Association, but many of the programs are familiar to long-time Ocean Center visitors, as they have been held in previous years.
All programs launch from the expansive Ocean Center site, which features a marsh and soundfront boardwalk, as well as a dock and launching point for the popular kayak tours and "Marsh Madness" explorations.
All sessions take place in small groups of 15 participants or less, (depending on the activity), so advanced registration is highly recommended. Programs can be booked online through the Hatteras Island Ocean Center's website at http://www.hioceancenter.org/programs/.
The Summertime programs for 2023 are as follows:
Kayak Nature Tours
Come see the diverse wildlife of the salt marsh up close and personal! The guided kayak nature tours go through the local winding wetlands and out into the Pamlico Sound. All skill levels of kayaking are welcome.
Morning Tours: Monday-Tuesday-Wednesday-Thursday-Friday, 10:00 a.m.-12:00 p.m.
Afternoon Tours: Monday-Wednesday-Friday, 2:00-4:00 p.m.
Marsh Madness
Salt marshes are one of the most interesting and productive ecosystems on the planet and the Ocean Center has one right in their own backyard. Throw in a line, pull up some blue crabs, and discover what kinds of plants and animals call this wetland home.
Tuesday-Thursday, 2:30 p.m.
Turtle Patrol
Attend a brief presentation and learn everything you want to know about the life cycle of the local sea turtle species. Join the Ocean Center on the beach and see active sea turtle nests, and learn how the National Park Service works to assist these endangered species. Discover what you can do to help save endangered sea turtles as you take a close4 look at what it takes to rehabilitate these amazing creatures.
Monday-Tuesday-Wednesday-Thursday-Friday, 11:00 a.m.
Campfires, Crabs, & Constellations
Relax around the campfire with an iconic Hatteras sunset and an exceptional stargazing experience. Learn about Outer Banks' history, legends, and nighttime beach creatures underneath some of the darkest skies you'll find along the East Coast. Both kids and adults will enjoy searching for ghost crabs in the tide, eating s'mores, and laying back under the Milky Way.
Monday, Tuesday, Wednesday-Thursday 7:30-9:30 p.m.
The Hatteras Island Ocean Center is a nonprofit 501(c)(3) community effort made possible with the generous help of our volunteers, contributors, and supporters. Donations are welcome and are tax deductible.