High School Musical hits the stage May 4-7 in the CHSS Drama Club's most ambitious production yet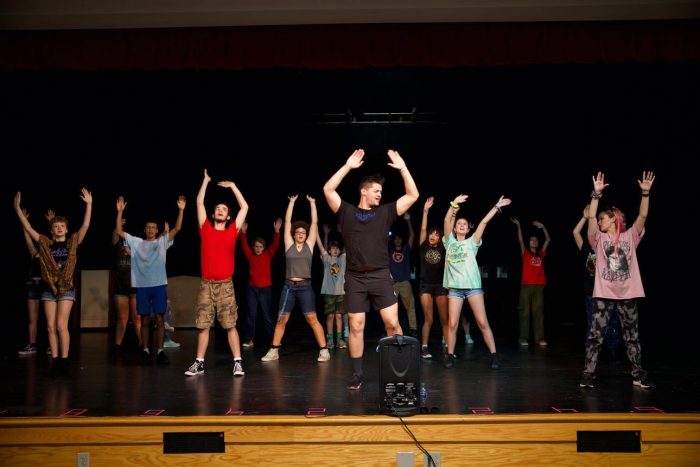 Cape Hatteras High School's (CHSS) newest production is about to hit the stage, and the community is invited to catch one of the four shows to see what the talented members of the CHSS Drama Club have accomplished.
"This is probably the most complex musical they have ever attempted, and the amount of time they have spent on it is astonishing," said CHSS Drama Club Co-Director Blake Taft. "They started this show in February, and have been working on this show very diligently ever since – it's one of the most technically complex musicals that we've ever done in that there are so many moving parts."
The upcoming show, High School Musical, has a cast of 30 students which includes a stage manager, but other CHSS students have pitched in with the background details along the way, like the carpentry students who helped create intricate and show-stopping sets.
"When you remember that this is a school of 300 students, and we have 50 students working on the show, it's a pretty big deal," said Taft.
The past year has ushered in a new beginning for the CHSS Drama Club and the school's corresponding theater program. Taft is a CHSS alumnus who was active in the school's original drama club, and after studying theater at George Mason University, he returned home to Hatteras Island and decided to use his education to rebuild and rejuvenate CHSS theater program like never before.
But there were several unforeseen obstacles along the way. Hurricane Dorian in 2019 caused severe damage to the school, forcing it to operate in survival mode, and then the Coronavirus pandemic hit in 2020 and 2021, which put a lengthy pause on extracurricular activities and new initiatives.
Finally, in December 2022, Taft and the CHSS Drama Club students staged their first new production in four years, Elf The Musical Jr., and the program and enthusiasm have grown from there.
In this latest production, Taft and his team connected with both on-island and off-island volunteers to create an incredible show for their Outer Banks community.
Local volunteers helped with costume design and vocal coaching, while a Los Angeles-based professional choreographer paid the students a visit to help with the complicated dance moves.
"We have an army making sure that the music is top-notch," said Taft. "We're incredibly blessed to have this many people in the community supporting the program and helping out. We absolutely couldn't do it without this help."
"We have had all of these people coming in and volunteering their time, and the kids sound so good as a result. You'd never imagine that this is the first year of a theater program, or that these kids are 12 or 13 years old."
When the spring musical was first announced, many of the Drama Club students had never heard of High School Musical before, which was originally a 2006 Disney movie. "That made me feel very old," said Taft. "So at the first rehearsal, we popped popcorn and watched the original High School Musical as a cast, and the kids fell head over heels in love, because it's very relatable to them."
"It's a familiar story – boy meets girls, they have an obstacle, and they try to work it out – but there's so much there that's relatable to anyone, and especially our students."
In order to recreate the scenes of High School Musical, the student crew had to create an entirely new school from scratch. "We basically built a full school inside the auditorium," said Taft. "We're keeping what the set looks like under lock and key because we want to keep the 'wow factor.'"
Taft credits the behind-the-scenes army for bringing the star-studded movie musical to life, but he also attests that it's the students who worked hard and brought their talents to the stage that make the show spectacular.
"It's so incredible to see how focused they are and how hard they work at such a young age," he said. "They really are amazing performers, and I couldn't be happier with how the show has turned out."
Tickets are currently for sale at the front office of CHSS, the United Bank in Buxton, and at The Froggy Dog in Avon, and Taft and the dozens of CHSS students who have contributed to the musical hope that the island community comes out in waves to celebrate the Drama Club's latest venture.
Proceeds from ticket sales help keep the CHSS Drama Club going strong, as they plan more productions and events in the not-so-distant future. For now, however, with their second musical under their belt after a years-long hiatus, and a host of young performers who will grow with the Drama Club, the CHSS theater program is enjoying a renaissance that is sure to benefit the students, as well as the community who can share in the success.
"The one thing that is great about the community here is the support,' said Blake. "We've gotten to grow the program so quickly, and we're going to continue to grow."
"We couldn't do it if it wasn't for the support of the community. I've never seen any place like this in terms of community engagement, involvement, and willingness to help… and we can't wait for everyone to see our hard work."
How to catch the show
Tickets are $15 each for adults and $10 for students and are currently for sale at the front office of CHSS, the United Bank in Buxton, and at The Froggy Dog Restaurant in Avon. Tickets can also be purchased at the door on the day of the show, but may be sold out.
There are four performances scheduled and shows will be held on Thursday, May 4, at 7:00 p.m., Friday, May 5, at 7:00 p.m., Saturday, May 6, at 7:00 p.m., and Sunday, May 7, at 2:00 p.m.