One of the joys of the holiday season is spending time in the kitchen lovingly preparing special treats for friends. This year, with no parties to plan or to attend, no bazaar to contribute to, and no visitors expected, it seemed especially important to remind people they are remembered and loved.
I am a fan of https://thecafesucrefarine.com/, and every gift I made was from one of their recipes. In addition to well-thought-out and well-tested recipes, they offer pretty labels they will email to you on request to print.
The directions and alternative suggestions are explicit and very helpful, and every recipe I have used is sound.
The site is also well-designed and foods are easily accessible by category. In addition, the photos are gorgeous and very tempting.
I love, love, love the easy Copycat Raincoast Crackers! They are the basis of all the gifts this year. They are time-consuming, so put on some Christmas jazz music and enjoy yourself. I even don a mid-century patterned apron my sister made for me to put myself in the spirit, and whistle along while I work.
Let's start with the crackers.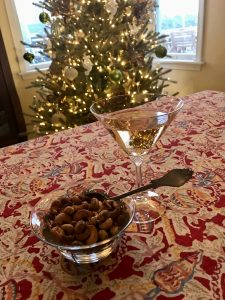 COPYCAT ROSEMARY PECAN RAINCOAST CRACKERS
2 cups flour
2 teaspoons baking soda
1 teaspoon kosher salt
2 cups buttermilk
1/4 cup brown sugar
2 tablespoons pure maple syrup or honey. I used the last of my NC Sourwood Honey.
1 cup raisins. I used golden raisins.
1/2 cup pecans, lightly chopped
1/2 cup pepitos (pumpkin seeds)
1/4 cup sesame seeds
1/4 cup flax seeds
2 tablespoons finely chopped fresh rosemary
Preheat oven to 350F. Spray 4 small (6×3") loaf pans with cooking spray or oil generously. Line 2 sheet pans with parchment paper and set aside.
In a large bowl, stir together the flour, baking soda, and salt. Add the buttermilk, brown sugar, and maple syrup (or honey) and stir a few strokes. Add the raisins, pecans, pumpkin seeds, sesame seeds, flax seeds, and rosemary and stir just until blended.
Pour the batter into the prepared loaf pans. Bake for 25-30 minutes until golden and springy to the touch. Allow loaves to cool in the pans for 10 minutes then remove and cool completely on a wire rack.
Once cool, freeze for 30-40 minutes. This will make is easier to thinly slice the loaves. i left mine in the freezer overnight.
Preheat oven to 325F. Slice partially frozen (or frozen) loaves thinly (about 1/8 inch thick) and place the slices in a single layer on prepared sheet pans.
Bake for 15 minutes, then flip them over and bake for another 5-10 minutes or until crisp and golden. Cool completely and store in an airtight container.
Makes about 6 dozen crisps.
They are the perfect base for festive conserves and jellies and cheeses. And look at all those healthy ingredients!
When we were children, Santa always left a clementine in the toe of our Christmas stockings, so they represent happy Christmas mornings to me. Combine them with fresh cranberries, and you have Christmas fruit that delivers flavor and color to a delicious topping, not only for the crackers and cheeses, but also for ham and turkey. It is a lovely alternative to cranberry sauce.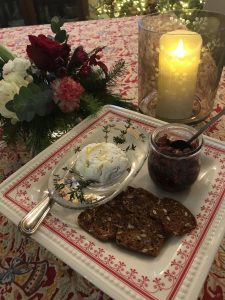 CRANBERRY CLEMENTINE CONSERVE
1 cup chopped pecans
6 clementines, organic, if possible. I used the small halos and used 10.
1/4 cup rice vinegar
1 12-ounce bag fresh or frozen cranberries
2 3/4 cups sugar
1 cup golden raisins
1 tablespoon Sriracha chili sauce
4 teaspoons finely zested fresh ginger 
Preheat oven to 350F. Place pecans in a small baking pan. Bake for 5-7 minutes or golden and fragrant. Set aside to cool.
Wash the clementines well. With a zester, zest 3 (or 5) of the clementines. Set zest aside, covered. Cut clementines in half, and with a hand juicer (or just your hands) , squeeze he juice, reserving the pulp.
Measure juice and pulp. It should be about 3/4 to 1 cup. If it is a little more or less, it's fine. Transfer juice/pulp and rice vinegar to a large saucepan and bring to a boil. Cook for 4-5 minutes until juice is reduced to about one half the original volume.
Set aside 1 cup of the cranberries. Add the remaining cranberries, sugar, raisins, and Sriracha to the reduced juice mixture. Bring to a boil, then reduce to a rapid simmer. Cook for 8 minutes then add reserved cranberries and stir well. Continue cooking until cranberries are soft and mixture is beginning to thicken (It will thicken kore as it cools.), another 7-10 minutes (for a total time of about 15-18 minutes), stirring occasionally.
Add fresh ginger and clementine zest. Stir to combine. Cool completely, then add pecans and stir well. Transfer to glass jars or other storage containers. ( I love the Weck mini tulip jars for this.) Cover and cool in the refrigerator. Allow to sit out for 25-20 minutes before serving.
This recipe will make 5 cups of conserves. You can use with cream cheese, goat cheese, Brie, or other sliced cheese on crackers.
Why not dress up that cheese to add to the festive mood?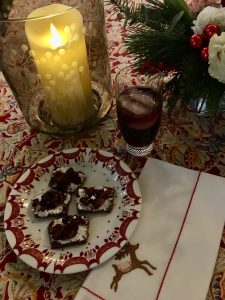 EASY GOAT CHEESE APPETIZER
4 ounces goat cheese, softened I used City Goat Cheese from Zingermans'.com
Finely grated lemon zest from 1 medium-size lemon
2 teaspoons fresh thyme leaves
fresh thyme leaves and sprigs for garnish
Edible flowers for garnish, optional
Honey for drizzling, optional
Raincoast Crackers for serving 
Line a small bowl or ramekin with plastic wrap. Try to leave as few wrinkles as possible in the plastic wrap. Set aside.
Combine softened goat cheese, lemon zest, and thyme sprigs in a small bowl and stir to combine.
Add the prepared goat cheese mixture to the prepared bowl and, using the back of a spoon, pack the mixture down to get rid of any ai pockets. Pull excess plastic wrap over the cheese mixture and refrigerate for 30 minutes (or freeze for 5-10).
Remove from refrigerator and invert goat cheese mixture onto a serving plate. Remove plastic wrap and garnish as desired with fresh thyme leaves and/or sprigs and /or edible flowers and petals. Serve with crackers and a small bowl of honey for drizzling.
CURRIED CASHEWS
No set amounts. Use what you think you will use.
large raw cashews
Madras curry powder or other curry
Gee
Roast raw cashews in a dry pan on the stovetop until golden-brown and fragrant
Take off the heat and add curry powder to your taste and some . kosher salt.. Judge by aroma.
Add some gee, just enough to make the powder adhere to the nuts and return to the a low heat to cook the powder and remove the raw taste (as you do with flour). Serve with other appetizers and a holiday drink.
These are a mere sampling of many edible gift ideas, among other wonderful recipes, that Chris has developed and that she and Scott present so well on thecafesucrefarine.com
I recommend you familiarize yourself with this amazing site from Ashville and you will find yourself returning often.
Here's to gifting yourselves too! Be very merry!