Island Cooking: Pastitsio – Greek Lasagna, but better!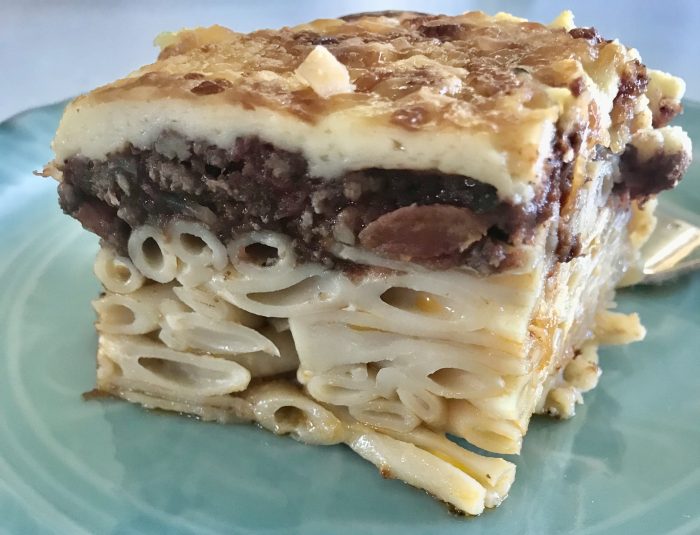 Years ago, I was warmly welcomed into a large, loving, and very generous Greek-American family. They fed me very well, and Ya-Ya and Annette taught me recipes that I still cherish. Of course, Ya-Ya spoke Greek, but she was deliberate with her actions, so I learned much from her despite the language barrier, and picked up some Greek words.
I was included in their extended Greek family celebrations, (and extended meant anytime there was a Greek celebration with many family or friends who always welcomed me), so I was able to participate in their customs and enjoy Greek dancing, though I was not good at it!
I have a great love for this family. My memories are rich in the traditions they so happily shared and the joy they gave me over the years, and I value my time with them and all the time I spent in Greece where I experienced the origins of their hospitality.
A basic dish that I love and prepare even now is Pastitsio, a baked pasta dish with Greek flair. I have shared the prepared meal with friends who also like it and call it "kid-friendly." So, I will prepare and freeze (freezer-friendly) for my niece and her family who will be here in December, and will share it with you here.
If you read my columns, you know I sometimes use ingredients that need to be ordered online and this recipe is no exception. But what the heck? We order all the time, and maybe Conner's can get them for you.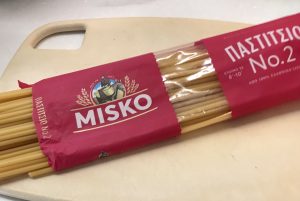 You should be able to find Pastitsio pasta and cheese when you are in a more populous area, like Norfolk or Raleigh, where there are International and Mediterranean markets.
I use Misko brand, no. 2. It is a larger type of the more familiar bucatini. Feta cheese is widely available but Kefalotyri, the cheese for the Greek bechamel, is not.
You can substitute another pasta without affecting the taste, but the appearance won't be as striking and that is an important element! Instead of Kefalotyri, you can use Parmesan or Pecorino Romano. They will not impart the same Greek flavor but will work.
Serve with a simple Greek salad and finish with an easy and light citrus honey, cake.
Kali Oreksi!
PASTITSIO
Meat Sauce
2 tablespoons olive oil
3 garlic cloves, finely minced
2 red onions, finely chopped
3/4 cup red wine
2 pounds ground beef
28 ounce canned crushed tomatoes
2 beef bouillon cubes, crumbled
2 tablespoons tomato paste
1 teaspoon sugar
1 bay leaf
1/2 teaspoon ground cinnamon
1 cinnamon stick
1 teaspoon ground black pepper
Greek Bechamel
7 tablespoons butter
3/4 cup all-purpose flour
4 cups whole milk
1/8 teaspoon grated nutmeg, preferably freshly grated
1/2 teaspoon salt
3 ounces Kefalotyri cheese, freshly grated
2 egg yolks (reserve whites for the pasta)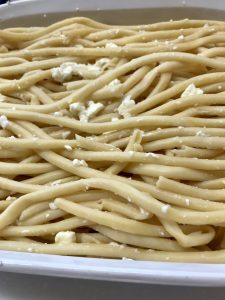 Pasta
14 ounces No. 2 Pasta
4 ounces Feta, crumbled
2 egg whites
Topping
3 ounces Kefalotyri cheese, freshly grated
Prepare Meat Sauce
Heat the oil in a large pot over high heat. Add garlic and onion, cook until onion is softened, 2-3 minutes.
Add beef and cook until it browns. Add the wine and cook until wine has mostly evaporated, about 3 minutes.
Add remaining meat sauce ingredients. Stir well, bring to simmer, then reduce heat to medium or medium low so it gently simmers.
Cook for 45-60 minutes until liquid is mostly gone, occasionally stirring. It should be a thick mixture, not saucy like spaghetti sauce. You want it to sit on top of the pasta layer without dribbling into it.
Remove from stove and cool to room temp or at least 30 minutes.
NOTE: For a vegetarian version use a mix of dried wild mushrooms. The dried varieties create a rich broth and a "meaty" texture and flavor.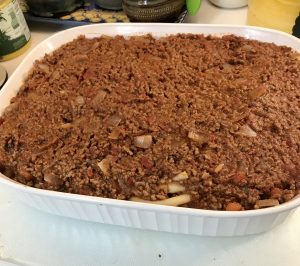 Prepare Greek Bechamel
Melt butter in large saucepan over medium heat. Add flour and stir for 1 minute.
While stirring, slowly pour in half the milk. It should turn into a wet paste. Continuing to stir, pour in the rest of the milk. The paste should easily dissolve so it's lump-free. If not, whisk vigorously.
Cook, stirring, for 5 minutes until the base is thick enough to thickly coat the back of a wooden spoon and you can draw a path across it with your finger.
Remove from stove. Stir in nutmeg, cheese, and salt.
Leave to cool for 5 minutes. Quickly whisk in egg yolks. Place lid on and set aside. If sauce cools and gets too thick to pour, reheat on low until pourable.
Prepare Pasta
When you are ready to assemble, cook the pasta for several minutes and test for doneness.
Return to pot. Let cool for 3 minutes.
Stir through the egg whites and then, the crumbled Feta.
ASSEMBLE AND BAKE
Preheat oven to 350 F.
Place pasta in large baking dish, arranging them all in same direction.
Make the surface of the pasta layer as smooth as possible.
Top with the heavy meat sauce. Smooth that surface.
Gently pour over the Bechamel Sauce.
Sprinkle the cheese on top.
Bake until crust turns golden, about 30 minutes.
Cool at least 30 minutes. Cut neat slices with neatly visible layers.
GREEK HONEY CAKE WITH ORANGE AND PISTACHIOS
For the Cake
5 large eggs
1 cup plain Greek yogurt
2 cups granulated sugar
5 tablespoons ground almonds
Zest of 1 lemon
Zest of 1 orange
1 1/4 cup all-purpose flour, plus more for dusting
1 cup coarse semolina
2 teaspoons baking powder
3/4 cup extra virgin olive oil plus more for greasing the pan
Handful of shaved almonds
For the Honey Pistachio Syrup
1 1/4 cup shelled salted pistachios
1 1/4 cup good honey ( runny, not thick)
Juice of 2 oranges
Juice of 1 lemon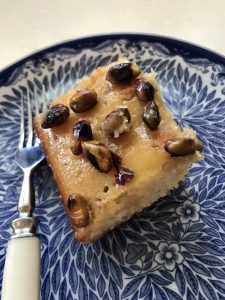 PREPARE
Preheat oven to 350 F. Grease a 9 x 13 inch baking pan and dust with flour
Place eggs, yogurt, sugar, ground almonds, orange and lemon zest, flour and semolina, baking powder, and olive oil in large mixing bowl.
Whisk to combine and pour into prepared pan. Spread evenly with spatula.
Bake on center rack until inserted toothpick comes out clean, 25-30 minutes.
Remove from oven and let cake cool completely in the pan.
Toast the pistachios in large, dry, non-stick pan over low heat.
When they become fragrant, stir in the honey and the juices.
Bring to boil and reduce until syrupy, 1-2 minutes. Do not taste – too hot!
With a small, pointed knife or a skewer, poke holes all over the cake and pour the hot syrup evenly over the cake.
Distribute pistachios across the top and sprinkle on shaved almonds.
Allow the syrup-topped cake to soak in for a few hours.
Cut into 12-15 squares.