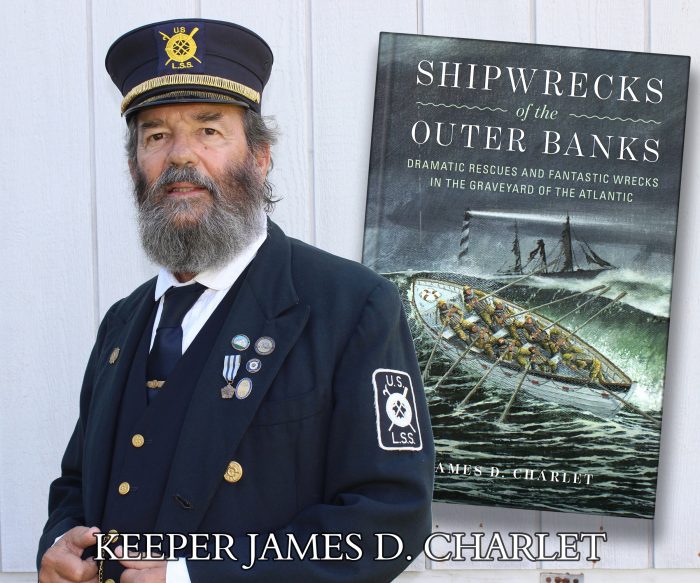 James D. "Keeper James" Charlet will be signing and personalizing copies of his best-selling book Shipwrecks of the Outer Banks: Dramatic Rescues and Fantastic Wrecks in the Graveyard of the Atlantic by Globe Pequot Press on Wednesday, June 29, at the Cape Hatteras Lighthouse bookstore. It will start at 10:00 am and last until the books run out.
The book focuses primarily on the United State Life-Saving Service, "America's Forgotten Heroes." This Service is one of the least-known yet most inspirational aspects in all of American history. These "Storm Warriors" and "Angels in Oilskins" existed on all US coasts from 1871 until 1915 when the name was changed to United States Coast Guard. Unlike today's multi-mission Coast Guard, the Life-Saving Service had the singular objective of "saving lives in peril from the sea." They literally risked all "so others may live."
In their 44-year history, these "Saviors of the Surf" responded to over 178,000 lives in peril—of which they save over 177,000.
That is merely one revelation in Keeper James' book. Also read about the most highly awarded maritime rescue in US History (Chapter 3); how Rasmus Midgett single-handedly saved ten people from a Hatteras Island shipwreck, in the middle of a hurricane in the middle of the night (Chapter 4); about how the 50-year old keeper of the Oak Island Life-Saving Station spent 55 consecutive hours responding to five different shipwrecks, mostly on his own, with little or no rest and no food or water (Chapter 9); and how the motto "So Others May Live" was born of a multi-station, multi-day Cape Hatteras rescue (Chapter 11); how the Wright brothers' success was crucially aided by the surfmen of the Kill Devil Hills Life-Saving Station (Chapter 15); how the Hatteras Village Weather Bureau Station received a telegram 20 minutes before anyone else, but was scolded and told to ignore it. The telegram read "CQD, Have Struck Iceberg." (Chapter 18)
And there is much more! Keeper James will be in full dress uniform and accompanied by his lovely wife Linda Molloy in her period attire.